Welcome to Mirfield Memories
Home page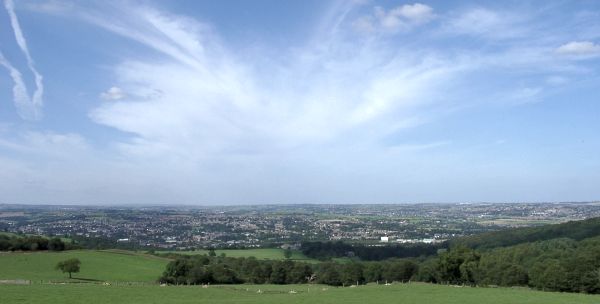 View over Mirfield as seen from the golf links
---
This site is the place where the young people of Mirfield in West Yorkshire, and those who have moved here in recent years, can see and learn something of how it was when I was growing up. I hope that it will also bring back some memories for those who have moved away but still have Mirfield in their hearts. I will be covering some of the changes that have occurred in recent years and some that happened many years ago. I will be mentioning places that no longer exist and will show photographs wherever possible.
I don't set myself up as an authority on all things Mirfield but I have lived here most of my life and have taken notice of the things I have seen and heard and can also draw on the experiences of a small pool of others like myself. I must also acknowledge a massive debt of gratitude to a lady I have never met. Judith Stonebridge Doyle has provided many invaluable ideas and memories, and has put in countless hours of proof reading from a far-flung outpost in Canada to where the Stonebridge family emigrated in 1952.
No corner of Mirfield will be spared as we travel from Shepley Bridge at one end to the Dumb Steeple at the other. We will touch on the old halls such as Blake Hall, Water Royd Hall and Eastthorpe Villa which are no longer there and also Hopton Hall, Over Hall and the Old Rectory which are still inhabited today along with mention of the churches and chapels. Here you will also find information about the railway and the stations that we have largely lost such as the Leeds New Line which passed through Battyeford and Northorpe Higher stations. The long lost Engine Shed and the old Mirfield Station will also feature in the railway section.
No website on Mirfield is complete without at least a mention of our favourite son, Patrick Stewart. This site is no exception and I have a section dedicated to him. Our schooldays were intermingled so you find numerous mentions and photographs of our early schools, Lee Green Infant's, Crowlees CofE Boys' School, and Mirfield Modern School. There is also a lot on Mirfield Grammar School (MGS) where I ended up until 1956.