Mirfield from 1969 to 1975
Mirfield 1960-92
Photos of Mirfield from around 1969. The newest registration in evidence is the G suffix which was first introduced in August 1968. Click on any picture for a larger image. These photos pre-date the linking up of the M1 and M62 motorways and the heavy traffic is evidence of the A644 through Mirfield being used by vehicles leaving the M1 at Ossett to join the M62 at Brighouse or Huddersfield and also in the other direction.
The Foldhead mills are prominent in this series of photos. The main mill stood at the bottom of Newgate by the river and was consumed by fire sometime soon after 1974.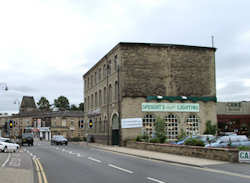 Foldhead Mill with flat roof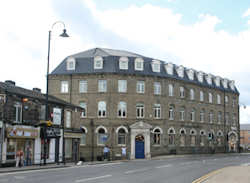 Foldhead Mill 2007
The upper part of the mill on Huddersfield Road is now home to Speight's Lighting. Comparing the 1969 photos to those shown here it can be seen in the left hand photo that the mill had lost its earlier tiled roof. In the photo on the right, new luxury appartments have been built on top of the structure so it has a raised roof once more.
---
Photos by Ian E. Gawthorpe
Ian E. Gawthorpe grew up in Mirfield and after being inspired by reading Pobjoy's "A History of Mirfield" he took up his camera and proceeded to compile a photographic record of Mirfield of his time. He called his project "Beyond the Dumb Steeple" and his photographs cover a period through the early to mid 1970s. Ian married Christine in 1969 at Christ Church, Battyeford and they moved south to Cotswold country in 1975 where he continued his passion for photography. He died in 1985 but his widow, Christine, has allowed a selection of his Mirfield photos to be reproduced here.

Mirfield Booking Office

Mirfield Station Platform

Fold Head Mill Burning

Fold Head Mill Aftermath

Taylor Hall Brickworks

Crowlees Boys' School
Trouble at t'Mill

Mirfield Memorial Hospital

Ivy Lodge

Laurie Armitage Cycle Shop

Pickles Place

St. Peter's Church & School

Prefabs at Taylor Hall
This central montage of the fire at Fold Head Mill was created by Ian and was a prize winning comptetition entry in Amateur Photographer.