Mirfield Schoolchildren 1953
Schoolchildren 1953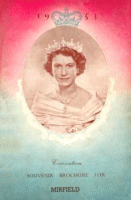 Elizabeth II was crowned Queen on 2 June 1953 in a ceremony at Westminster Abbey but had ascended the throne more than one year earlier upon the death of her father, King George VI on 6 February 1952.
To mark the Coronation, Mirfield Council published a Coronation Souvenir which listed all MIRFIELD schoolchildren who were attending MIRFIELD schools in that year. Many of our classmates were bussed in from Kirkheaton, Kirkburton, etc. and unfortunately these were not included in the list. It still makes a valuable resource however and it is only because my late mother-in-law saved the copy given to my wife, Barbara, that I am able to reproduce it on these pages.
Below is the list of schoolchildren which was compiled, as far as I can ascertain, from the school registers for the first term of 1953. Pupils are listed in order of their school so, if you're old enough, you might want to see if you can find your name there. For the younger visitor perhaps your parents' names could be there or may be an auntie or uncle.
---
Mirfield Schoolchildren 1953
If you follow the links below or just scroll down the page you will be rewarded with the complete list of children listed by schools. If you were a Mirfield schoolchild in early 1953, or maybe your mother or father were in school at that time, then they will surely be listed.
You can also search for a particular name by using 'Find (on this page)' under the Edit menu or by pressing Ctrl+F.
Headmistress - Miss C. Atkinson
Class I.
Teresa R. Armitage
Margaret Babey
Susan M. Bramley
David Brearley
Christopher J. Carbutt
Peter L. Hatfield
Gail Hattersley
Peter Hemingway
Sandra M. Hemingway
Malcolm Hinchcliffe
Desmond Humpleby
Kathleen M. Ingle
Sandra E. Kilburn
Dorothy I. Mann
Christine J. Peace
Margaret Priestley
C. Martin Randall
David Rhodes
John Rounding
Peter J. Simpson
Judith M. Stott
Brian A. Tarbutt
Lionel R. Taylor
Margaret R. Wadsworth
Helen K. Walker
Alan Weston
Class II
Christine Armitage
Marion Armitage
John L. Barber
Stanley Beaton
Sylvia M. Broadley
David Brown
Kenneth M. Burton
Christine S. Buckley
John H. Davies
Patricia M. Dixon
Graham Dyson
Maureen Edwards
Valerie Fenton
Susan Hartley
Jean E. Hemingway
Elaine M. Higgins
Margaret Holdsworth
Stephen M. Holroyd
Melvyn Jacques
Christine R. Midwood
Janice Neale
Kathleen L. Peace
Maurice Renton
Susan A. Redfearn
Jennifer Rhodes
Veronica R. Scutt
Elaine Sheard
Kenneth Taylor
John Thornton
Frank Thramar
Roy Totton
David Unsworth
Michael L. K. Wiggins
Class III
Kathleen Armitage
Irene M. Beckett
Alan Blackburn
Christine Boorer
Christine M. Bray
David Cragg
Jacqueline Denton
Sandra M. Dove
Linda Freeman
Heather G. Gate
Margaret Griffin
David Hair
Maureen P. Hatfield
Stephen R. Holt
Wendy V. Lynes
Catherine S. Oates
Gordon M. Onions
David Onions
Barbara Page
Carol A. Searby
Kay E. Simpson
Gwen Singleton
Ian Stewart
David R. Tarbatt
Nancy Taylor
Robert Thornton
David Totton
Judith Wrigley
BATTYEFORD C. of E. (MIXED) SCHOOL
Headmaster - Mr. E. Trevor
Std. II Boys.
Brian M. Ashbury
David Aspey
Richard H. Barber
Colin A. Bennett
Roy Blackburn
Trevor Clarkson
David L. Clegg
Kenneth H. Davies
Anthony Fearnley
John R. Kaye
Stephen A. Kynaston
Graham Kynaston
Colin Priestley
Paul H. Richardson
George W. Schofield
Malcolm Shaw
Anthony Sykes
Ian L. Tattershall
David Thomas
Christopher K. Walters
David R. Weston


Std. II Girls
Hazel Bentley
Brenda Beswick
Brenda Clarkson
Joyce Clegg
Doreen Dorgan
Gertrude M. Ellis
Christine E. Goodall
Rochelle M. Hall
Marjorie E. Howarth
Margaret E. Hughes
Susan Kingswell
Norma Liversidge
Jennifer M. Lumb
Cynthia Metcalfe
Margaret Middleton
Margaret F. Porritt
Glennis Rhodes
Geraldine J. Ryan
Anne Savage
Joyce M. Spence
Angela Strong
Elaine M. Taylor
Brenda Waterhouse
Std. III Boys
Ronald Appleyard
David Armitage
Alan Beckett
Leslie Bowers
Graham Brown
Robert Brown
Bernard Dagnall
Robin N. Field
Robert Hennell
Martin Hennell
Stephen Hennell
Ian Hinchcliffe
Edward Hutchinson
Alan M. Jones
Arthur I. Marriott
Frank Newell
Brian Page
Brian Priestley
Alastair Scott
David Shaw
John Sowden
Stephen J Tarbatt
Philip Tattershall
Keith Taylor
Brian Thompson
Trevor Wadsworth
Derrick Walker
Clive Waterhouse


Std. III Girls
Ilene Beckwith
Barbara Beswick
Marlene Calvert
Janice Collins
Josephine Eagles
Jean Hill
Angela Maughan
Margaret Oates
Wendy Oldroyd
Gillian M. Taylor
Jacqueline Thompson
Joan Unsworth
Susan M. Webley
Margaret E. Whitaker
Gillian Wrigley
Std. IV Girls
Betty Anderson
Mavis Goodall
Glenys M. Hitchen
Jacqueline M. Holroyd
Grace E. Jackson
Valerie M. Lumb
Anthea H. Martin
Janet M. Milnes
Christine S. Porritt
June M. Redfearn
Myra Toohey
Valerie Unsworth
June Waterhouse
Std. V Boys
Kenneth Calvert
Michael Clegg
Christopher B. Dyson
John C. Haddon
Frank E. Middleton
Richard A. Midwood
Michael R. Muddiman
Norman Parkin
Stuart R. Payne
Harry Peacock
Philip S. Rounding
John M. Spink
Richard K. Spink
David Squire
John G. Swallow
Raymond Sykes
Stephen E. Wood


Std. V Girls
Jennie Anderson
Christine E. Brown
Judith A Bush
Christine Gandy
Joan Gill
Eileen A. Goodall
Mollie North
Lilian Savage
Margaret D. Sykes
Std. V-Boys
Michael Bridgewater
Peter E. Charlton
Jeffrey Ellis
David Liversidge
Peter Rounding
Robert Squire
John Taylor
Headmistress - Miss O. G. Loney
Class I
Barbara Armitage
Daphne Barker
Rita V. Binns
Nancy M. Brearley
Marilyn A. Brook
Deanne Brooke
Norma Brown
Christine Buckingham
Margaret Carter
Christine Cotterill
Jill M. Daniels
Jacqueline S. Eggleston
Norma Ellis
Beryl Flynn
Jacqueline Gibson
Linda M. Hemingway
Kathryn R. Hirst
Moira E. Ibbotson
Elizabeth M. James
Doreen MacDonald
Marjorie Oxley
Patricia Plunkett
Susan M. Ridyard
Winifred Ross
Carol Y. Saynor
Ruth A. Senior
Elizabeth M. Smith
Kathleen A. Stead
Christine A. Stubbs
Doreen A. Stubbs
Marlene Walker
Class II
Sylvia Barker
Carolyn Bray
Carol M. Brearley
Joan V. Gibbs
Patricia A. Goodall
Audrey Green
Suzanne Griffith
Barbara Hemingway
Sonja M. Hepworth
Anita Jackson
Margaret E. Ledgard
Cathryn M. Lockwood
Sandra MacDonald
Jean Nelson
Judith M. Ramsden
Patricia A. Rhodes
Rona Senior
Ann C. Stead
Janet C. Sturgeon
Janet R. Sykes
Anne Taylor
Dorothy Taylor
Sandra Walker
Vivien E. West
Jean A. Whiteley
Anne Winsor
Sheila A. Wood
Class III
Robert A. Baines
Susan W. Bates
Sheila M. Brook
Lana P. Brown
Susan J Brown
Roger Cliffe
Arthur Dewhirst
James D. Ellam
Stephen E. Elliott
Richard A. Ellis
Patricia M. Franks
Janet M. Green
Elizabeth M. Halliday
Patricia Haythorne
Andrea L. Hepworth
Barry Idle
David Kelly
Susan E. Kitchen
Margaret Leake
James R. Livesey
Rawdon Midwood
Carol C. Millis
Susan L. Morton
Stephen Myers
Kathleen R. Oliver
Susan Ownsley
Janet Pickles
David N. Pinder
Richard W. Ramsden
Derrick Shingleton
Joseph A. Stead
Allen E. Sykes
John Varley
Graham Walker
Peter Wilby
Richard Willans
Deirdre M. Wood
Class IV.
Judith Ambler
Margaret E. Atkinson
Roger M. Atkinson
Catherine. Barker
Jacqueline Barraclough
Lynn Blackburn
Peter Boardman
Norman Bray
Roger W. Brook
Martin A. Cartwright
Lilian Chappell
Jennifer Cotterill
Christopher Dews
Kathleen English
Linda M. Gibson
Raymond Goodall
Melvin Hemingway
Angela M. Holt
Lesley Honeybun
Denise Idle
John A. James
Barbara V. Ledgard
Graham Mitchell
Patricia Nelson
Jennifer Ray
John D. Ray
Charles P. Rogan
Michael Rooke
Elizabeth M. Sanderson
Neil Senior.
Valerie E. Shaw
Carol M. Sheard
Michael I. Smithson
Paul A. Stones
Joyce Varley
David W. Wallace
John Wilby
Anne Wilkinson
John Wilson
Leonie M. Wilson
CROWLEES C. of E. BOYS' SCHOOL
Headmaster - Mr. A. Haigh
Junior I
Mark D. Bawcutt
Geoffrey Beaumont
John Brook
Richard Blackburn
Stephen Chamberlain
Richard M. Dawson
Peter Coates
Brian Dugdill
Peter Goodwill
John Handley
Peter Hatfield
Richard Hudson
Granville Idle
Colin Jackson
Roger Jennings
David Lawrence
John H. Milner
John Paley
Graham Peacock
Richard Pollard
Alan Proctor
Peter Singleton
Colin Sykes
Edward Wills
Junior II
David Clayton
Rodney Dransfield
Paul R. Jackson
Ian S. Land
Neil O'Donnell
Ian R. Rawnsley
John W. Rogers
Richard Slaney
Melvyn J. Tearne
Martin J. Webster
Junior III
Norman Antrobus
Peter J. Blackburn
David J. Butler
Ronald Dawson
Wilfred Gill
Graham M. Heeley
Terence A. Johnson
Rodney J. W. Smith
John Terry
Trevor Whitehead
Junior IV
Malcolm Ambler
Keith Brown
Jack Guy
Anthony S. Jefford
Christopher G. Lodge
Geoffrey S. Parkinson
Stuart M. Richardson
Headmaster - Mr. B. Priestley
Juniors Class I
Godfrey C. Alderson
Christine Armitage
John G Atkinson
Philip R. Baker
Richard A. F. Bennett
Gordon Brook
Martin Chambers
Gordon Copley
John R. Crawshaw
Robin Crawshaw
Ian Crowther
May Davies
Vernon G. S. D. Davies
Michael W. Elliott
Ian E. Gawthorpe
Stephen Gibbs
Terence M. Goodall
Patricia B. Gough
Roland Gow
J. Brian Griffith
Christine M. Haigh
Kenneth Haikings
David G. Halliwell
Jacqueline A. Hirst
Richard W. Hart
Stuart R. Jackson
S. Yvonne Ledgard
Malcolm Lockwood
Sylvia M. Quarmby
Christine Richardson
Graham Robinson
Ann C. Stainley
E. Barry Stead
David Stead
Marlene Thewlis
Ian Thynne
Alison M. Wallace
Margaret E. Waterton
Kenneth G. Wilkinson
David A. Wilson
Juniors Class II
Stephen A. J. Anstee
David A. Armitage
Angela Barraclough
Carolyn Bates
Ray Blackburn
Graham D. Bottomley
John J. Broadly
James H. Bryan
Helen E. Butler
Judith M. Camp
David Carter
Sandra E. Coupland
Pamela Crowther
Peter D. Davidson
John R. Denison
James E. Dixon
David M. Ellam
Maureen Evans
Joyce Gibbs
Rita Gibson
Trevor Greenwood
Rosemary Halliwell
Pamela M. Heaton
Alec Hemingway
Christine A. Hutchinson
Jean Irvin
Christine Jackson
David A. Mackenzie
Barry Marriott
Jean Mellor
Ann P. Morris
John K. Mountain
Geoffrey F. Oates
Michael B. Pickles
Kenneth M. Platts
Dennis A. Rayner
Alice Sinclair
Stuart Walker
Michael R. Waller
Raymond Ward
Stephen A. Wood
Juniors Class III
Glynis Bloom
Ramsay Bloom
Alan Crawshaw
Michael Crawshaw
Hugh Crowther
Pauline Cooke
Anthony Cost
Linda Dawson
Ernest Denison
Frances Ellam
Keith France
Eric Gaul
Donald Gibbs
Ann Gibson
Mary Goodall
Richard Haigh
John Hirst
Janet Holt
Michael Hutchinson
Arthur Jennings
James Johnson
Richard Johnson
John Kelly
Pauline Knowles
Kathleen Owen
Geraldine Parrish
John Pearson
Janet Scholes
Gordon Shillitoe
Jimmy Smith
Richard Storrs
Gordon Talbot
Mary Turner
Paula Weddell
Andrew Wilson
Infants First Class
Geoffrey Aykroyd
Rodney Barrowclough
Graham Binns
David H. Brier
Colin Brotherton
Michael J. Chester
Eileen Davies
John Dixon
Terence Ellam
Maureen Evans
Lesley Garnett
Jeffrey A. Gaul
Stuart M. Gough
Howard Grason
Brian Greenoff
Barbara Holt
David Ibberson
Patricia Jackson
Patricia Leatham
Margaret E. Ledgard
Richard S. Lister
Jeffrey Lutton
Barbara Oldroyd
Robert Philbrick
Cynthia Roberts
Jennifer Rounding
Dorothy Sandbach
Bernard A. Scholes
Roy Shufflebotham
Gordon Stott
John Street
Stuart M. Sutcliffe
Ray Sykes
Peter K. Thornton
Gillia H. Wallace
Derek Wattam
Elaine Wattam
Infant Second Class
Keith E. Anstee
Anne Blackburn
Peter Brotherton
John V. Bruce
J. Margot Butler
J. Raymond Carter
Christine Castle
Brian Chester
John Clarkson
John R. Coupland
Wendy Dawson
Peter J. Eagle
Leslie Ellam
Marilyn Farrar
Carole A. Gaul
Glynis Gough
Janet Hardy
Janet Hutchinson
Henry W. Irvin
Christine M. Ledgard
Susan Lorryman
Robert S. Martindale
Julie Medley
Peter Mellor
Audrey Mutton
Richard C. Oldfield
Allan S. Riley
Cynthia Roberts
Irene Sandbach
Margaret Schofield
E. Malcolm Swallow
Allan J. Taylor
John W. Weddell
Terence Whitehead
Jospeh Whittington
Richard A. McPartlin
Headmaster - Mr. C. Crane
Class I
Charles W. Stewart
Neil Hopkinson
Bruce C. Bellwood
Wm. Hickman
Kevin Rowe
John A. Gill
David Helliwell
Stephen Brook
Peter Jackson
John Gospel
Adrian Pattinson
Peter R. Sykes
David A. Wood
Peter Lewis
Michael Walker
Jeffrey Walker
Geoffrey Senior
Dennis E. Castle
Keith Smith
Anthony E. Surman
Maureen Viney
Pat Bray
Catherine Gowan
Andrea McDonald
Wendy Hampson
Maureen Peace
Patricia Davey
Rita Slee
Barbara Irish
Denise Kingswell
Dawn Coupland
Denise Smith
Valerie Furness
Carol A. Batty
Marilyn Greenhalgh
Carol Johnson
Patricia A. Walton

Class II
Terence Whalley
Rodney Ledgard
John Coupland
Brian Dunderdale
Lance Hepworth
Nigel Ward
Trevor Furness
Graham Shotton
Michael Kirby
Rodney Laycock
John Whiting
Brian Whiting
Richard North
David Skelton
Richard Graystock
John Entwistle
Alan Hepworth
Ernest Walker
Ruth Scholefield
Anne Dunderdale
Kathryn Hirst
Anne Harrop
Ruth Wright
Judith Barkham
Elaine Agar
Christine Mellor
Jean Lister
Catherine Parry
Carol McDonald
Patricia McDonald
Maureen Hepworth
Joy Crane
Linda Haxby
Carol Mitchell
Judith Sheard
Kathleen Woodruff
Class J.I.
Ian J Sewart
Stuart Laverton
Alan Skelton
Leslie Elston
Allan Scholefield
Brian Wood
Howard Senior
Stephen Ledgard
Stephen Wood
Peter Nelson
Peter Lee
Peter Walker
Anthony Pratt
Douglas Hallas
Stephen Clegg
Rodney Whiteley
Arnold Simpson
Anthony Berry
Richard Robertson
John Stones
Trevor Hampson
Graham Laverton
Neville Greenhough
Barry Woodruff
Pauline Agar
Adela Bartholomew
Susan Mellor
Lorraine Nelson
Christine Swindley
Cynthia Sheard
Norma P. Benson
Anne Lee
Glenys Oates
Anne Watts
Lesley Childe
Jean Hemingway
Margaret Gospel
Gloria Hirst
Susan Atkinson
Judith Webster
Kathleen M. Ledgard
Denise Brooke

Class J.II
Ian Elsworth
William Sutcliffe
Keith Harrison
Charles Hopkinson
Kenneth Walls
David Kingswell
Kenneth Adcock
Ronald Sharratt
John Sheard
Selwyn Clarke
Brian Sheard
Peter Wilson
John Sharp
Alan Jones
Paul Thickett
Kenneth Newsome
Barry Bellwood
Alan Harrop
Geoffrey Shotton
Stuart Burton
Philip Norgate
Stuart Lindley
Graham Oldroyd
Barry Newman
John Friendship
Hazel Kirby
Edna Stott
Diane Mitchell
Norman Gill
Ann Kirkwood
Christine Entwistle
Valerie Walker
Brenda Nowells
Lesley Wood
Pat Mcullum
Joan Clarke
Janet Eagland
Susan Lee
Sheena Wild
Julie Sheard
Wendy Parker
Class J.III
Edward Charlotte
Michael Rowe
Ronald Oliver
Tony Elston
John Shaw
Frank Irish
Russel Vince
Colin Milnes
David Walker
David Crowther
Trevor Fearnley
Kenneth Evans
John Baldwin
Alec Ledgard
Gerald Pollard
David Clegg
Geoffrey Crowe
Arnold Weldrick
Terrance Henderson
Brian Marsh
Malcolm Burton
Howard Robinson
Roger Williams
Graham Saville
Michael Scott
Peter Hampson
Melvyn Harson
Roger Hall
Mavis Whitehead
Joan Gospel
Diana Norgate
Carol Ledgard
Jean Wilcock
Jaqueline Lister
Jean Hutchinson
Jacqueline Childe
Anne Stead
Christine Walls
June Hirst
Pauline Sykes
Hilary MacDonald
Nina Spencer

Class J. IV
Laurence C. Cooke
Roy France
Keith Parr
Malcolm Lindley
Richard G. Shore
David Laverton
George M. Jokl
Michael J. Kilner
David J Wild
David Shotton
Brian Speight
Trevor Myers
Colin R. Barkham
Keith Harrop
Rodney Brown
Roy D. Mountain
David J Evans
John E. Raithby
Bernard Hurst
Alan Fearnley
David Marshall
Robert P. Oates
John K. Beevers
Graham Broadhead
David A. Lamb
Brian Peach
Valerie Fenwick
Shirley A. Clarke
Margaret Kaye
Marlene Karson
Audrey Ellis
Brenda Spenceley
Jacqueline Hirst
Anita North
Judith A. Atack
Sheila M. Vaux
Ruth Ledgard
Carolyn Knowles
Patricia Clarke
Patricia A. Brook
LEE GREEN C. of E. GIRLS' & INFANTS' SCHOOL
Headmistress - Miss A. Garside
Class I
Christine Berry
Dorothy Brooke
Anne Chamberlain
Susan Chamberlain
Brenda M. Clegg
Mary Clegg
Pauline M. Davey
Brenda H. Eastwood
Diane W. Ellis
Margaret English
Mary Fisher
Mary Gill
Margaret Gledill
Elaine Hartley
Pauline Hinchcliffe
Nancy Holroyd
Margaret Hunt
Pauline E. Jay
Doreen Mann
Norman J. Miller
Jennifer Parker
Judith Pell
Barbara Smith
Beryl Smith
Patricia Sutcliffe
Laraine E. Tabern
Marie Webster
Barbara Wood
Class II
Susan Armitage
Janette Audsley
Doreen Berry
Joyce Berry
Elaine Bowness
Patricia Brannan
Patricia Buckley
Jennifer Chapman
Joan Cockburn
Margaret Cooke
Pamela Crutchlow
Betty Davey
Eva Dickinson
Moira Ellis
Ruth Evans
Patricia Exley
Janet Fairburn
Irene Frankin
Pamela Greaves
Elizabeth Haigh
Jean Hardy
Valerie Heeley
Susan Hepworth
Anne Hirst
Catherine Hunt
Janet Jackson
Anita Jessop
Sheila Joy
Patricia Leatham
Valerie Lister
Judith Middleton
Jacqueline Midwood
Jennifer Noble
Pamela Oxley
Hilary Scatchard
Patricia Sharpe
Brenda Smith
Christine Somes
Ann Sutcliffe
Doreen Shepherd
Sylvia Taylor
Suzanne Thwaite
Margaret Webber
Susan Wilding
Christine Wooller
Margaret Young
Class III
Isobel Armitage
David Berry
Maureen Brannan
Kathleen Chaplin
Susan Clegg
Ann Dawson
Deanna Dickinson
Sheila Dutton
Marlene Fisher
Wendy Gledhill
Brian Greaves
Myra Hallas
Patricia Hardy
Susan Hepworth
Bryan Highe
Patricia Newton
Linda Nowell
Trevor Peach
Joyce Speight
Susan Stringer
Dorothy Trotter
Elizabeth Wilding
Class IV
George Beaumont
Pauline Chamberlain
Kathleen Chapman
Betty Cheesbrough
Mary Clayton
Garry Crossley
Margaret O'Donnell
Janet Fretwell
John Haigh
Jean Hartley
Kathryn Hill
Marilyn Hopkinson
Joan Hornsby
Jean Hunt
Christine Illingworth
Andrew Middleton
Beryl Myers
Marlene Peacock
Rhodes Barry
Garth Robinson
Ann Rodwell
Kevin Stuart
Nigel Tearne
Ann Thurlow
Ann Trotter
Christine Walker
Glennis West
Alan Whitehead
Judith Wilcock
Class V
Christine Audsley
Christine Barker
Christopher Barker
David Bowness
Doreen Brannan
David Broadhead
Janette Crowther
Allan Davies
Jennifer Dickenson
Vivien Eley
Danie Ellis
Kathleen Evans
Michael J. Fretwell
Margaret G. Handley
Martin Hatfield
Michael W. Hepworth
Carol M. Jackson
Jean Land
Lynn Leahy
Philip Martin
Ivor Massey
Jean L. Murgatroyd
John R. Noble
Anita Padgett
Alan Pollard
Mary Schofield
John K. Smith
Keith R. Sutcliffe
Angela Waddington
Caroline Wild
Deidre M. Wilson
Patricia Wright
Headmistress - Miss K. Procter
Standard I
Lewis Bairstow
Peter Barrie
Joan Bowers
Hazel Broadhead
Andrew Crowther
Elizabeth Dugdill
Margaret Dugdill
Stanley Ellis
Susan Fairhurst
Graham Fearnley
Gordon Hepworth
Anthony Hirst
Maureen Hirst
Valerie Inman
Margaret Leadbeater
Ann Mallinson
David Mallinson
Richard Maughan
Robert McWhir
John Mills
Richard Ogden
Christine Peacock
Ronald Rose
Karen Shingleton
Connie Stubbs
Audrey Taylor
Carolyn Vince
Carol Wallace
Harvey Walsh
Stuart Walsh
Janet Walters
Elizabeth Williams
Jean Wilson
Pauline Wilson
Class I
Jacqueline Andrews
Janet Armitage
Linda Beswick
Michael Brooke
Sylvia Brown
Norma Crowe
Peter Dransfield
Stephen Fearnley
Clifford Gill
Anne Hepworth
Jane Johnson
Nicholas Kennedy
Jenny Martin
Ian Proctor
Jean Pryce
Judith Rennie
Margaret Rose
Rosalind Senior
Jacqueline Shaw
Ronald Sheard
Imelda Sherridan
Alan Smith
Rosalind Smith
Kathleen Thompson
Melvyn Thompson
Keith Timmins
Christopher Walker
Carol Walker
Barbara Whiteley
Peter Young
Class II
Meryl Auty
Sheila Bowers
Michael Brooke
Charles Brown
Raymond Bullock
Roger Chambers
John Clayton
James Ellis
Anita Harson
Betty Hepworth
Jean Hepworth
Michael Hellewell
Robert Hutchinson
Alan Inman
Grenville Jackson
Carol Leadbeater
Margaret Lockwood
Susan Marshal
Lilian Pattinson
Howard Quarmby
Ronald Smith
Richard Stead
June Trickett
Carol Timmins
Muriel Turner
Patricia Wallace
Graham Walker
Geoffrey Wilson
Joan Young
Headmaster - Mr. J. W. Slaney
Class I
Anthony Armitage
Rodney Bradley
John Dodgson
Philip Driver
Stuart Ellam
Brian English
Amy Fleetwood
Joan Hardy
Mavis Hickman
David B. Laycock
Jacqueline Popplewell
Laurence Whiteley
Terence A. Wood
Class II
Betty Ainley
Geoffrey Ainley
Sheila Ainley
Jennifer Avison
Susan Bedford
John Briggs
Graham Dutton
Edward Fisher
George Fleetwood
Elaine Hartley
Stuart Hickman
Harold Holland
Maureen Kaye
Michael Kaye
Patricia Kelly
Jacqueline Kilburn
Isobel Ledgard
Ken LeGeyt
Reginald Mallinson
Susan Mallinson
Gloria Mead
Matthias Shields
Martin Shields
Percy Swift
Michael Sykes
Keith Warner
Helen Walker
Yvonne Watts
Jennifer White
Margaret Wilkin
Class III
Carol Booth
Margaret Bourne
Albert Dickenson
Patricia Dransfield
Janet Hartley
David Holland
Celia E. Holland
Mary Hickman
Michael Illes
Shirley P. Kelly
Martin Lindley
Ian Mead
Josephine Nunns
Ian Senior
Trevor Sheard
Ernest Swift
David Walker
Linda M. Watson
Dennis J. Whiteley
Anthea L. Wood
SECONDARY MODERN SCHOOL (Years 4 & 3)
Headmaster - Mr. F. E. Bassett, B.Sc.
Form 4A
Joan Barber
Lorraine M. Barker
Keith Beaumont
Bernard Beckett
Eric D. Carter
Robert Chipp
Joyce Court
Audrey Ellis
Philip Haigh
Doris Haw
Terence Hickman
Malcolm Hilton
Harry Hodgson
Brian Illingworth
Shirley Jackson
Arthur Lockwood
Jillian Lovett
Alan Mayfield
Stewart Mayfield
Mary Parkinson
Fred Peach
Keith Richardson
Christine Shooter
Michael Waterton
Jean Whitehead
Harry Whitefield
Kenneth Wood
John Woodward
Frank Wright
Form 4T
David Beaumont
Derek Bottom
Kenneth Bowers
Trevor Briggs
Molly Brookes
Hazel Burnett
Marshall Carr
Shirley Chappell
Brenda Clarke
Stephen Crossley
Ernest Edwards
Betty Ellis
David Farmer
Richard Gibbs
Dorothy Gibson
Doreen Hickman
Margaret Hirst
Irene Laverton
Christine Maltas
Barbara Newsome
Christine Plunkett
Dorothy Roberts
Harry Scholfield
Ray Shaw
George Sheard
John Sinclair
David Tordoff
Ronald Webber
Walter Wilson
Barbara Ward
Form 3A
Ian Barr
Graham Beachey
George Broadbent
Christine Butterfield
Diane Clarke
David Crew
Jean Dutton
June Greenland
John Hemingway
David Holmes
Margaret Jackson
Dorothy Johnson
Patricia Kane
Neville Lawton
Jean Mallinson
Joan North
Shirley Pattinson
John Pearsall
Joyce Pickup
Betty Pollard
Anthony Popplewell
Brenda Rhodes
Patricia Simpson
Malcolm Stead
Robert Stead
Harry Stirk
Nancy Stones
Rosalie Swift
Roland Walker
Donald Wood
Form 3T
Colin Armitage
Richard Atkinson
Muriel Auty
Trevor Cawthra
Margaret Charlotte
Revie Clayton
Valerie Clough
Irene Crowther
Kenneth Ellam
Doreen Fleetwood
John Freshney
Ralph Garfield
Derek Goodall
Malcolm Ian Hall
Sheila Hepworth
Daughne Hill
Kenneth Lee
Alan Milnes
Tom Nield
Nancy Pearson
Mary Pennock.
Pearl Plunkett
Doris Probets
Edward Rawnsley
Harry Seale
Gladys Smith
Roland Smith
Judith Street
Michael Walker
Barbara Ward
Mary Wattam
Kathleen Wherritt
Margaret Watson
Audrey Worfolk
Form 3G
Jack Ashton
Herbert Axmann
Peter Boulding
Sheila Bray
Anne Bridgewater
Maureen Cooke
Raymond Ellis
John Gandy
Margaret Gibson
Marlene Hepworth
Anthony Inman
Colin Jackson
Margaret Jackson
Stephen Lorryman
Barbara Maltas
Malcolm McCullen
Anne McLean
Patricia McLean
Malcolm Oliver
Kenneth Ramsden
David Rigg
David Sharpe
Mary Shepherd
Malcolm Spenceley
Alan Stead
Anthony Walshaw
SECONDARY MODERN SCHOOL (Years 2 & 1)
Headmaster - Mr. F. E. Bassett, B.Sc.
Form 2A
Dorothy Barber
Alan Beaumont
Dorothy Beaumont
Sheila Brooke
Trevor Brooke
Sandra Blakeney
Maurice Coop
Thelma Coupland
Brenda Eagland
Eric Ellis
Christine Fairhurst
Fred Fisher
Doreen Gilder
Doreen Goldthorpe
Alan Jackson
Shaun Kennedy
Johnny Loffelman
Nancy Lorriman
Ann Maltas
Brian Milner
Joan Miller
Carolyn Paley
Christine Rimmer
Michael Sangster
Grahame Schofield
Ruby Scott
Charles Smith
Roy Stringer
David Sykes
Brian Thurlow
David Weldrick
Kathleen West
Form 2T
Kenneth Beckett
Thelma Broadbent
Raymond Carter
Brian Cooke
Peter Dickenson
Richard Ellam
Valerie Greenhalgh
Ronald Greenwood
Pauline Haley
Robert Henderson
Joan Horsley
Linda Jackson
Mary Kenyon
Doreen Lamb
Jennifer Lawton
Evelyn McLean
Roy Middleton
David Muffit
Christine Ramsden
John Rogerson
Mollie Rigg
David Scholefield
Christine Sheard
Mavis Sheard
Barry Simpson
Marjorie Stead
Patrick Stewart
Trevor Sykes
John Wood
Form 2G
Neville Barker
Kathlyn Bell
Kenneth Bell
Margaret Clarke
Richard Clayton
Douglas Cooke
Stanley Cooper
Margaret Coupland
John Ellam
Dorothy Ethell
Malcolm Fox
James Gill
Patricia Gillgallon
Dorothy Hughes
Jean Hughes
Agnes Kirk
Marion Kynaston
Kathleen Levin
Peter McHugh
Maureen Morrey
Ian Oates
Moira Rose
Christine Ross
Dennis Ryder
Frank Sheard
Alan Thompson
Rhona Walton
Harry Whitely
Edmund Wilson
Form 1A
Peter Binney
Terence Bolton
Eileen Brierley
Winston Dixon
David Dobson
Julie Eagland
Brian Ellis
Melvyn English
Patricia Furness
Philip Garside
Kenneth Hardy
Malcolm Hargreaves
Jeanne Hepworth
Elizabeth Hickman
Bryan Holdsworth
Cedric Johnson
Sheila Middleton
Joan Morton
Anne Roberts
Peter Schofield
Dorothy Slaney
Trevor Smith
Janet Sykes
Robin Tearne
Ian Walker
Granville Wanless
Howard Webster
Dorothy Winsor
Doreen Wood
Form 1T
Dorothy Ainley
Brenda Brook
Veronica Buckley
John Burdekin
Christine Butler
Graham Clarke
David Crosland
Michael Doughty
Pauline Ellis
Patricia Fearnley
Nadine Furness
Tom Gill
Peter Gledhill
Roger Hargreaves
Joyce Layton
Paul Lockwood
Stephen Micklethwaite
Trevor Pilgrim
Alan Priestley
Rosalind Shepley
Beryl Smith
David Spurr
Elizabeth Thramer
Eileen Tordoff
Anne Turnstall
David Turner
Roger Ward
Joan Webster
Audrey Wilson
Eileen Winsor
Leslie Wright


Form 1G
Patricia Armitage
John Barras
Antony Beckwith
Jack Brook
Dorothy M. Coote
Shelagh M. Duff
Margaret Hallas
Frank Harrison
David A. Hoole
Sylvia I. Hinchcliffe
Joan Kenyon
Doreen Kitson
Sylvia Lomax
Jeffrey McHugh
Malcolm Middleton
Arthur Rigg
Anthony C. Rugg
Charles Sinclair
Joyce M. Stead
Ada E. Swift
Barry Walker
Marlene S. Walls
Trevor Wilcock
Rita Wilkinson
Kenneth Wilson
Headmaster - Mr. W. Hepworth, B.Sc
Form VI Upper
James W. Brook
Peter Burton
Malcolm Copley
David C. Noble
Sheila M. Kilner
Joyce Neden
Shirley Ramsden
Cynthia M. Stead


Form VI Lower
Terence E. Cowdell
G. Edward Darley
Michael J. Dean
J. David Eagles
Peter Jaggar
Harry Smith
John D. Taylor
Peter A. Taylor
John N. Wood
Kathleen M. Applevard
Hazel M. Healey
Lorrie A. Malam
Janet Sharp
Elizabeth M Sheard
Winifred G. Middleton
Christine Ramsden


Form V
J. Reginald Banks
David B. Brook
Tony Scorah
Michael Storey
Rosemary J. Anstee
Doreen Y. Armitage
Joan Berry
Ruth M. Burnhill
Jennifer Burton
Margaret M. Clifton
W. Margaret Ford
Marilyn Guy
Jean Lamb
Maureen Midwood
Winifred M. Parker
Maureen C. Porritt
Maureen Sheard
Gwyneth M. Williams
Form IV Alpha
Adrian H. Alderson
David Ambler
W. Keith Armitage
Peter J. Brook
Alan E. Brown
Richard Dawson
Ralph Ledgard
Roy Mallinson
Barry Ryan
Edward M. Stead
Gordon Wilson
Pauline Berry
Margaret Davies
Rachel A. Hirst
Marlene Holt
Patricia A. Midwood
Brenda Milton
Wendy P. Renshaw
Judith Smith
Dorothy Sutcliffe
Julie A. Taylor


Form IVA
Hugh Dutton
Barry Fretwell
Gill Brian
Barrie S. Hirst
Albert R. Hitchen
David H. Johnson
William H. Price
J. Bryan Scaife
Clifford F. Shaw
Daphne Broadbent
Mavis Burton
Shirley Cooke
Dorothy Inman
John Kaye
Maureen E. Pryce
Betty Stead
Avril S. Thwaite
Brenda Wilby
Form III Alpha
Barry Brook
John C. Carter
Richard M. Darley
Colin Ingle
J. Roderick Martindale
Lawrence Sheard
Keith J. Walker
Malcolm Wilcock
David W. Williams
Rita M. Gawthorpe
Helen C. Jackson
Shirley Pryce
Joyce Ramsden
Margaret D. Richardson
Beryl Scholes
Ann Senior
Molly Sheard
Jean Walker


Form IIIA
David Ambler
Mark Appleyard
Peter G. Butler
David Johnson
Stephen A. Middleton
David B. Milner
Richard J. Senior
Barry Shaw
L. Anthony Watts
Aileen G. Barraclough
Cynthia Cliffe
Hilda Cox
Christine Hemingway
Frances A. Hepworth
Marlene E. Jackson
Jean M. Lister
Annie Peel
Connie Sheard
Anne Thwaite
Maureen Wooller
Form II Alpha
Michael E. Avison
Michael Batty
Kenneth H. Breare
Ian Gunson
John M. Haigh
John T. Laverton
Rodney Marriott
Stephen Mitchell
John Pinder
Barry Riding
Malcolm Shaw
David Walker
George D. Whitaker
Robert B. Wills
David Wright
David R. Wright
Evanne E. Bleakley
Mary J. Brooke
Angela M. Dyson
Carol J. Elliott
Christine M. Elliott
Joan M. Midwood
Gaynor E. M. Smith
Jean Whitehead


Form IIA
Michael Bowness
David Clegg
Harry Fretwell
Kenneth B. Holmes
Kenneth Smith
Trevor Walker
Michael Watts
Jacqueline A. Cheesbrough
Barbara Home
Margaret Maughan
Rudolphina E. M. Thramer
Form I Alpha
James A. Ambler
David Armitage
David Brook
Terence Fearnley
Geoffrey D. Garfield
Bernard Howells
David Laine
David Oates
Anthony D. Oxley
Michael Peace
J. Richard Senior
Stuart Wooller
Janet Armitage
Valerie Court
Eileen M. Crisp
Patricia Kingswell
Gillian Martindale
Jennifer Renton
Judith M. E. Scott
Mary F. Shaw
Catherine M. Walker


Form I A
Martin J. Allen
Robert Guy
C. Robin Healey
S. Barry Holdsworth
Brian Kelly
Stuart M. Kitchen
Robert W. Lynn
J. Graham Peacock
Nigel Richardson
Ernest R. J. Savage
Philip D. Senior
Anthony Stewart
J. Stuart Walker
J. Valerie Armitage
Anne E. Burnett
Edith Gomersall
Nora Greenoff
Patricia R. Medley
Christine M. Taylor
MARLBOROUGH SCHOOL
Headmistress - Mrs. E. C. Sadler
Kindergarten
Carol Beverley
Allan Dew
Jennifer Halliwell
Patricia Hepworth
Patricia Merlin
Elizabeth Shore

Form I
Sandra Halliwell
Prudence Norton
Peter Radcliffe
Jill Rayner
Edith Seagrave


Form II
Jane Buller-Sinfield
Mary Rose Moorhouse

Form III
Eileen Broadhead
Margaret Brown
Ruth Firth
Wendy Lenton
Jacqueline Rayner

Form IV
Christine Longstaff
Patricia Thirkill


Form Iva
Genise Altman
Elaine Barritt
Sheila Hirst

Form V
June Kaye

Form VI
Juliet Moorhouse