Mirfield Grammar School
Mirfield Grammar School

Blazer Badge

Cap Badge
Letter received by parents of prospective Grammar School pupils
---
The Grammar School
MIRFIELD
Yorks.
Dear Parent,
We should like to take this opportunity of reminding you that all pupils attending this school must observe certain rules, and of asking you to co-operate with us in seeing that the following rules are observed.

a) All pupils MUST wear school uniform (see enclosed list).

b) All pupils MUST change their shoes on entering school. Many pupils wear their gymnasium shoes but any rubber soled shoes will serve the purpose.

c) All articles brought to school by the pupil must be clearly marked with his or her name.

d) All pupils must provide themselves with a Bible and a Dictionary (preferably an etymological one).

e) All pupils are expected to do a certain amount of homework each evening.

f) All absences MUST be confirmed immediately by a note from the parent or guardian. If the absence is of more than 7 days' duration a Doctor's Certificate is required.

g) Change of address must be reported to the Headmaster immediately.

h) Financial aid for distinctive school clothing and dinners is available in certain cases. This depends upon the family income and the number of children in the family. Application forms may be obtained from the Education Officer, Education Offices, CLECKHEATON.
i) Notice of withdrawal of a pupil should be given to the Headmaster one term in advance.

j) Bicycles may not be brought to school without permission of the Headmaster.
Yours faithfully,

Wm. Hepworth
Headmaster.

Ms R. Jeffery
Senior Mistress.
---
Attached List for boys

MIRFIELD GRAMMAR SCHOOL.
Uniform etc.

BOYS.
i) Should wear grey flannels or corduroys, a blazer or dark jacket, school tie, school cap, school scarf. (We do not approve of flamboyant sports jackets etc.)

ii) For gymnasium an outfit of vest, shorts and gym shoes.

iii) For games an outfit of cricket shirt or football jersey, shorts, and a change of boots. All boys are expected to change for games.

iv) A towel

v) First-form boys require swimming trunks.

Boys' wear may be obtained from - H. Mann, Outfitter, 138, Eastthorpe, MIRFIELD.

Wm. Hepworth
Headmaster.
---
Discovering the Fire at MGS - March 17, 1961
As recalled by Carol Thornton (nee Jackson)
The first time that I knew something was wrong was when I got up to get ready for school as usual that day and saw the note that my father, Bruce Jackson, had left on the mantel piece.
My father was a goods guard at Huddersfield railway station at that time and often worked on "late turn". The nature of his job meant that he kept irregular hours so we occasionally communicated in this way. He had been coming home on his motorbike, from his shift, at around 2:00 am the previous night and while riding down Lee Green and along Dunbottle Lane towards Flash Lane he saw a glow in the sky caused by the school which was aflame. He promptly reported the fire at the next phone box on his route.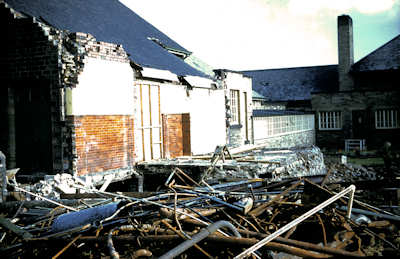 Fire damage - Photo by Geoff Jones
The message that he left for me that morning said that my school had probably burned down during the night.
Not knowing what to expect I left the house and walked to school as usual. When I arrived I was greeted by quite a scene of devastation. The lovely old stone central quadrangle and classrooms had gone and all that was left was a smoking ruin. There were several of our teachers standing around and some of them were in tears. Being young and naive I wondered why this was until someone informed me that they had lost all of their school records.
One of my fellow pupils was quite negative with me when I said my father was the person who had called the fire brigade — he would have preferred not to have had any school left to go to at all.
I was sad personally because only the day before I had taken some sticklebacks from the local pond and installed them in the big fish tank situated in the old classroom where we had biology lessons. The thought of the fire surrounding them, glass breaking and their being consumed by the heat and flames really upset me and I wished I had left them safe in their pond. Obviously there were no classes that day so I returned home.
Next week an account of the fire appeared in the local paper "The Reporter". The article said something like "...a lonely railway worker wending his way across the fields saw the fire..." and when I indignantly showed this to my father he just said, "well you can't believe all that you read in the papers".
All in all, because of these events, it has stayed quite vividly in my memory.

There is also an article on the fire in the 1961 magazine although it seems to have copied inaccurate details of the discovery from the newspaper report. There are also two photos in the Editorial
---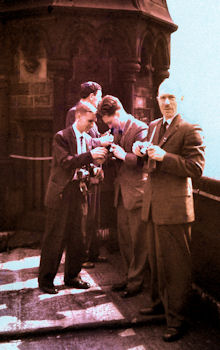 Photo by Geoff Jones
On top of the Parish Church Tower
This photograph from the mid 1950s was taken when 5 of our teachers climbed the spiral staircase to reach the top of the tower of the Parish Church.
They are Mr. Ray Saywell at the back, Mr. Les Saltern, Mr. Jack Charnock and Mr. Booth at the front. Mr. Geoff Jones handled the camera so is missing from the shot.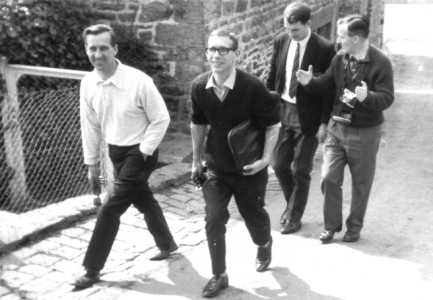 Photo courtesy of David Jessop
Mont St. Michael, France
David Jessop who supplied this photo on the right, is the son of Mr. Jessop the geography teacher at MGS. It was taken on a school trip to Mont St. Michael, France in 1967.
From left to right are:
Brian Longstaff - the driver for the trip, Les Salton - the PE Teacher, possibly Neil Sampson - the new history teacher during David's time there, and Mr. Geoff Jones.

Footnote: Les Saltern died Tuesday, 28 March 2006.
---
An account of 3 Grammar School trips in 1948, 49 and 50

by Donald Broadley
The initiative for the three school holidays that I am about to describe came from one of the most popular schoolmasters Mr Quick whom I believe had industrial experience prior to taking up teaching.
The first of the three school holidays that I went on was in 1948, not long after the war. Food was still rationed, indeed it was until 1954, money was in short supply and life by today's standards was austere. Fortunately Mirfield was little affected by the German blitz; incendiaries fell on or around Old Bank Road, a landmine, probably intended for the engine sheds, killed a horse and a V1 doodlebug flying bomb launched from over the North Sea exploded in Whitley having failed to get over the crest of the hill, intended no doubt for Manchester or Liverpool. The war years were nevertheless uncomfortable to say the least with family away in the armed forces, periodic air raids reminding of the dangers. Whether it was a release from all this that prompted chemistry and biology teacher Mr Quick to organise the three school holidays I am about to relate I do not know.
The holidays were eligible to students, both boys and girls from form four to the upper sixth. We were accompanied by several teachers and most importantly Mrs Bloor, wife of the school caretaker and school cook, I think you will see where this is going. The first holiday in 1948 was to Jersey only two years after the island had been liberated from the Germans and to go 'abroad' at this time was really quite something. As far as I can remember on this occasion we all went by Longstaff's coach which actually went on to the island, something that now is not allowed. It was used to ferry us around the island on day trips out, a strong feature in all these holidays. The boys were camped out in bell tents near St. Brelade's Bay with Mr Quick and of course Mrs Bloor. The girls and as far as I can remember most of the teachers stayed at the Youth Hostels Association in St. Hellier. I well remember Corbière Lighthouse and the Underground Prison built by East European slave labour. A large number of concrete blockhouses were scattered around the island but the guns had disappeared; in 2009 I found that the islanders had quickly tipped them into the sea only later having difficulty in recovering them for valuable scrap or reinstatement.
The second holiday in 1949 was to St Ives, Cornwall. This was an altogether bigger affair with half going by train and half by Longstaff's coach. We all camped in the grounds of a school using the school kitchens and of course Mrs Bloor came too. Being a Scout at this time I was in an advanced party that went by train to erect the more modern rectangular tents that were a lot more comfortable. Trips by coach were again an important feature but numbers were such that trips were on alternate days. I recall Lands End, the Lizard, Kynance Cove, Falmouth, and Penzance as well as St Ives itself; it was for me the most successful of the holidays. The photograph below shows the assembly of the school party on the school playing fields some days or weeks before we set off. I remember very many faces but not nearly as many names.
MGS Trip circa 1949

Photo by courtesy of Don Broadley
Click for a larger picture and if you can supply any names then please
email me
.
The final holiday in 1950 was to Bournemouth, again half going by train and half by Longstaff's coach, the coach being driven by Longstaff's eldest son, Brian. For some reason I have scant memory of the camp location, somewhere I believe between Bournemouth and Christchurch and presumably at a school but I can't be sure. I do however remember the coach trips to Winchester, Salisbury, Stonehenge and Lulworth Cove.
Three cheers then for Mr. A.H. Quick a most generous family man who must have spent many hours in the planning of the MGS school holidays 1948, 49 and 50.
Walking trip at Cnicht in Snowdonia — 1958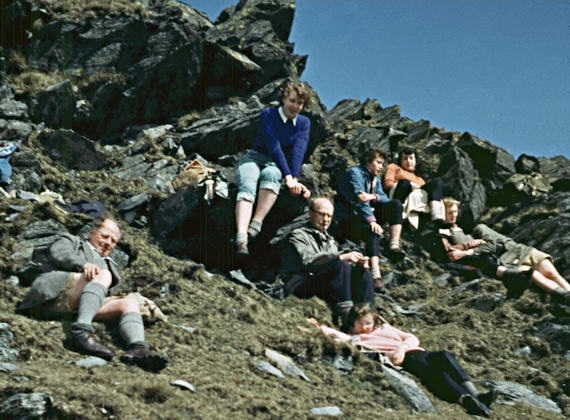 Photo courtesy of John C. Carter
Left to Right: Mr. (Taffy) Evans, Claire Skellern, Mr. Barker, Christine Elliott (front), Christine Haigh,
Christine Richardson, Andrew Broadbent, the person hidden at the right is unknown.
---
My Moment of Glory
My moment of glory came when I was just 15 years old but I think that a little background information may be helpful before I get into the details. It's all about competitiveness, and if there is anyone out there who is less competitive than me then I would like to meet him. If someone has a different viewpoint on any subject to me or does something in a different way then I don't feel an overwhelming urge to correct them, even when I know that they are 100% wrong. If they don't want to know, are happy with their beliefs, and aren't harming anyone then it makes no difference to me. I never needed to be better at football, score more runs at cricket, or run further and faster in a cross country run, and that brings us right to the point.
It was 30th March 1955; the school sports day and everyone had to enter at least one event. The only sport I had ever really enjoyed was the cross country run. During PE lessons the boys who were not very good at real sports like football were sent on a cross country run to keep them out of mischief. I would usually run alongside my friend, Tony Stewart, whose father was head caretaker at Mirfield Modern School and also brother to Alf Stewart, father of Patrick Stewart, making Patrick and Tony cousins. This was of little significance at the time but Patrick would later become famous as a Shakespearean actor, international film star, and of course as Jean Luc Picard in Star Trek The Next Generation. Now a lot of the boys would take shortcuts and stop for a crafty smoke but Tony would always run the full course by the correct route and I would keep him company. When we came to the final straight Tony would always put on a spurt and finish strongly with me just behind. I'm not saying I could have beaten him, just that I never tried.
Anyway, the dreaded day of the race finally arrived. My running partner Tony wasn't in school that day so I was on my own. Before the race I was talking to another friend, a young lady who was the daughter of a popular butcher at Ramsden's Butchers, who was trying to bolster my courage. She had developed a dislike for one particular boy, as girls of that age are prone to do from time to time. We will call this boy Jim so as not to compromise anyone even after all this time. Now I was quite sweet on this young lady so I listened when she said that she didn't mind what position I finished in, just so long as I beat 'Jim'. Of course, being a mere male, I readily agreed and said I would do my best, and then it was time to join the others on the starting line.
The crack of the starting pistol and we were off. The runners left the school grounds and ran down Richard Thorpe Avenue then turned left along Crowlees Road. We crossed over the railway bridge where Pinfold Lane joins Towngate and along the footpath beside the railway cutting then across Dunbottle Lane and down the path by the graveyard. This was the point where I always had a 'stitch' but once I had run through it I knew I was going to be ok. Next came the wooden bridge taking us left over the railway and out onto Shillbank Lane by Longstaff's house. Now we went up Balderstone Hall Lane and entered the fields just in front of the Hall. The path skirted the fields and we emerged into Crossley Lane briefly before turning left along the path behind the houses of Lockwood Avenue and then left again down Wellhouse Lane.
All this time I was keeping in touch with 'Jim' and was surprised to find that we were among the front runners. The next turn was right into Pumphouse Lane, across Greenside Road by the Gilder Hall then up Lee Green and turned left into Pratt Lane. Now it was a run down the footpath through the fields behind the Over Hall and the school was in sight. The path ran along the bottom of the school, parallel with Towngate and emerged into Crowlees Lane once more where we turned right. Many of the other runners had started falling back now but 'Jim' was still up there going strong so I had to stay with him.
As we entered the school grounds from Richard Thorpe Avenue I was horrified to find that only 'Jim' and myself were still in the race. Now it was the final straight and against all my instincts I forced myself to pull level with him. There were crowds on either side shouting at the top of their voices; my legs were like jelly and my heart was pounding but I had promised to beat him so I kept on going. 'Jim' started to flag and I pushed myself forward with the last of my strength and took the tape as winner.
I had the glory for a few days but disappointments were to follow. At the next PE lesson the gym teacher, Mr. Young, made a point of saying that it had been the slowest time on record, but the final insult came when I was presented with a small embossed card recording my achievement. It had been filled in with a typewriter and said:
Event:
Position:
Name:
Date:

Cross Country Junior
1st
F. Ellis
30th. March 1955

They hadn't even got my initial right and never offered to correct the mistake when it was pointed out.
---