Other Grammar School Photographs
Mirfield Grammar School
School Trips & Parties of the 1950s
Here we have a selection of MGS related photographs from the 1950s provided by John C. Carter.
They were almost exclusively taken by John when he attended the trips and functions depicted.
Click on the montage of his photos below to view them.

---
Lake District Trip to Stair in Newlands in the 1950s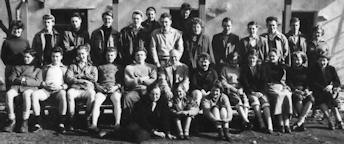 Click photo for larger picture and names
---
Operation Sunshine Trips
1951 to Festival of Britain - 1953 to Sandown, Isle of Wight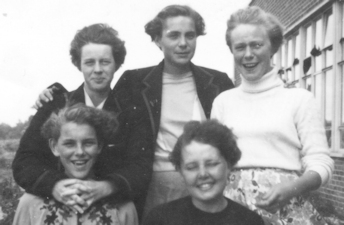 Click photo to read
---
M.G.S. Reunions
Early in 2006 a group of old MGS pupils who attended the school together in the early 1950s came together by email and other means and resolved to celebrate a visit by Barry Riding from France, where he has settled after globetrotting for most of his life. As most of us still lived in or around Mirfield, the Hare and Hounds was chosen as the venue with David Walker crossing the Pennines to join us. This was such an enjoyable experience that Barry has crossed the channel on a few other occasions and another reunion was arranged in July of the same year. We had managed to contact a few others from our school-year so although we lost one of our number who was away on holiday we grew from 6 to 8.
From this humble beginning the group has grown steadily until we are now in contact with many more 'old boys' and 'old girls', 16 of whom were able to gather on February 15, 2007 for a send-off celebration for David Clegg who was emigrating from our mother country to Australia. We all wished him well and promised to keep in touch. David is now settled and is quite happy with his move.
October 2007 was the first reunion in what is now its regular annual slot and we had 21 male ex-pupils, 4 female ex-pupils, 3 teachers and 2 wives giving a grand total of 30. For the October 2008 reunion the numbers remained constant at around the 30 mark and at October 2009 we managed a magnificent 42 attending then 40 in 2010 including 5 new members. 2011 saw even more joining us and we then had 51 attending but following the unfortunate death of Roy Mallinson in 2012 we gained many more members from his group and that year we topped out at 89.
In 2013 we saw the attendance falling slightly from the peak in 2012 to a more comfortable 76 and at the 2014 reunion we had crept back up to 80 ex-pupils and guest attending.
Click any of these reunion pictures for a larger image with names.
Following the cancellation of our usual Mirfield Grammar School reunion for 2018 an alternative reunion was held on Thursday, October 4, 2018 at Upper Hopton Club. This resulted from the disappointment expressed by many of our members which inspired two of them (Rudie Thramer and Sandra Thorp) to explore ways to still have a get together by organising something themselves. The numbers were less than usual but this helped to fit everyone into the smaller venue that was available and all those attending seemed to be very happy with the result.
Update for 2020: Two of our ladies made a valiant effort to get a 2020 reunion up and running earlier this year and were doing very well indeed until the Coronavirus pandemic struck and the whole thing had to be cancelled. Full marks for trying but the fates conspired against us.
A selection of photos from the October 2018 reunion taken on the day by John Carter.
Click one of the links below to view John Carter's photos over the years.
These links access external websites so please allow time for the links to open.
2012 Reunion —
2013 Reunion —
2015 Reunion —
2016 Reunion —
2017 Reunion —
2018 Reunion
---