Sir Patrick Stewart (Son of Mirfield)
Patrick Stewart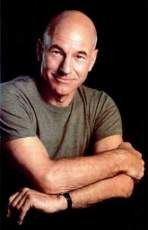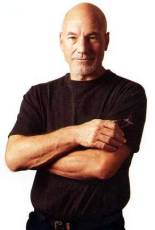 It's difficult to find something to write about Patrick Stewart that hasn't been documented in great detail on countless other sites by much better writers than myself. However I have a couple of advantages that most others do not share. I was born in the same year (1940) and in the same small West Yorkshire town (Mirfield) as Patrick.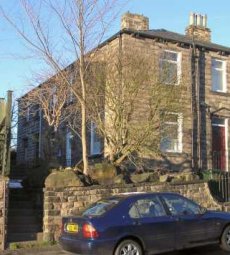 Move mouse over photo to change
We were both born in our respective mothers' beds in houses that were number 17, just 5 months and less than a quarter of a mile apart. Patrick was born in a one-up-and-one-down (i.e. one room upstairs and one room downstairs) at 17 Camm Lane and I was born in a rented two-bedroom cottage at 17 Pinfold Lane. We were both from working class families and attended the same schools, Lee Green Infants' and Crowlees Boys' School where we were in the same class and then my first year at Mirfield Modern School though we were in different classes then. If you haven't checked out the Crowlees Boys' School page and studied the photos then you should; just click the "Crowlees Boys" link on the Other Schools page, accessed from the main menu. There you will find class photos from 1950 which feature both Patrick and myself as well as the football team photo starring Patrick on the front row and my brother, Brian, on the back row. The other advantage I have is that my wife's family are related to the Stewarts and an abridged family tree can be viewed by clicking the "Family Tree" link at the top of this page. The photo of a young Patrick with his brother, Trevor, is from my late mother-in-law's albums while the school photos are from my own family's archives.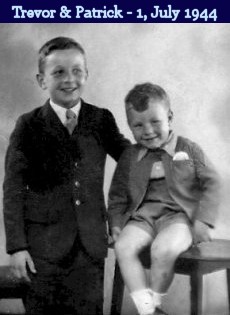 Trevor and Patrick Stewart
Patrick's mother, Gladys, was a weaver in the local mills and was a regular visitor with my wife Barbara's mother. They also worked together for a time in the spinning shed at one of the local mills. She was a tiny, gentle woman who was active in amateur dramatics, and she encouraged her sons to take part. Geoffrey was the first born son, Trevor came second after a gap of 10 years and finally Patrick who was born on 13th July 1940 after a further 5 years. Patrick's first stage appearance was in the Mirfield Parish Church Pantomime of Cinderella which was performed at the Wellhouse Moravian Schoolroom. Patrick's father Alf was also a good friend of Jim and Elsie, Barbara's parents, and would visit the family occasionally, especially in the time just after Gladys' death in 1978.
Much has been said about the strict manner in which Alf ran his family and I am not going to dispute any of this. Alf was a career soldier, a Regimental Sergeant Major. He served with the King's Own Yorkshire Light Infantry and later the Parachute Regiment before being demobbed in 1945 at the end of World War II.
He was used to instilling discipline in his men and expected it of his family when he came home on leave. Alf was prone to violent rages and Geoffrey, being the oldest, must have borne the brunt of this along with Trevor and Gladys herself. Patrick, being the youngest, came along when Alf was perhaps mellowing a little and was able to get away with things that his brothers would never have dared to try.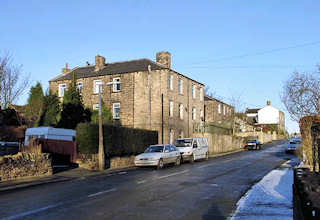 ---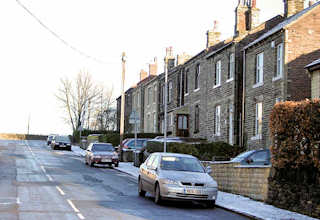 Both Sides of Camm Lane
In the BBC documentary "The Best of British", Patrick spoke of his father and how he ruled the family but there was no mistaking the pride he obviously felt for his father when he spoke of Alf's "exemplary" army record as listed on the back of his paybook. When he had recounted this story he gave a sigh and a smile lit up his face as just for a brief moment he was once again Patrick, son of Alf Stewart. He has also stated that despite the violence at home his father never beat him and I never saw anything at any time to contradict this.
While on the subject of this documentary, I will say that it was generally informative and well done. However, I feel that the early black and white scenes were subject to a degree of artistic licence because the townscape used wasn't from any Mirfield that I have ever known.
There was another side to Alf, however, in that he was able to use his authoritative manner in a kindly way for the good of others. Several years after Alf left the army he worked as a commissionaire at Firth's Carpets, Heckmondwike, where my wife Barbara also worked. Now Barbara has had difficulty walking since she caught polio at the age of 4 (it was known as Infantile Paralysis in those days) and likes to do things discreetly because of her pronounced limp. She would park her car in Firth's carpark, which was across a busy road from the mill, and would peep out of the entrance waiting for a gap in the traffic so that she could cross. Today there is a pedestrian crossing but at that time the workers had to fend for themselves. However, Alf had the trained soldier's eye and would invariably spot her trying to be invisible just inside the carpark, whereupon he would march out into the road, resplendent in his smart uniform, hold up his hands to stop the traffic, and would wave her across. Now she was the centre of attention which was just what she hadn't wanted, but at least she was able to cross safely. Alf passed away in 1980.
Patrick and I both left Crowlees C of E Boys' School in the summer of 1951 and moved to Mirfield Secondary Modern School which had only opened during the previous year. I was to move again to the Grammar School after one year but Patrick finished his school days there, leaving at the age of 15. I have never seen it documented anywhere but my memory tells me that Patrick became Head Boy in his last year there. The English and Drama teacher at the Modern School was Cecil Dormand. He had taught the older boys at Crowlees before the Secondary School opened to take pupils who didn't pass the eleven-plus examination to go to the Grammar School.
The school-leaving age was 14 at that time; my elder brother left Crowlees at 14 in 1947 and the leaving age was increased to 15 shortly afterward. Mr. Dormand was to have a guiding influence on Patrick in his amateur dramatic days at school and was instrumental in getting him his first job as junior reporter at the Dewsbury Reporter.
He left the Reporter after an ultimatum from his editor, Henry Wilson, that he must choose between a career in journalism or his "foolhardy" ideas about acting. Fortunately for us, after giving it some thought he chose acting, so he packed up his typewriter and walked out. This was a major step for Patrick because he was leaving behind the security of a regular job and income to go out into the world with nothing. He next worked as a salesman for Hudsons furniture store in Daisy Hill, Dewsbury, and saved as much money as he could so that he could attend drama school. In interviews he always speaks well of the late Mr. Hudson whom he obviously held in high regard. On his visit to Dewsbury in April 2003 he turned up unannounced at the store and spent time chatting to a member of the present day staff. He had earlier attended an eight-day drama course at Calder Valley High School, Mytholmroyd, while still at school, and he now turned to his mentors from that course for advice on what his next step should be.
In every case they recommended that he should try for a place at the Bristol Old Vic Theatre School, so this was where he applied for a position. Because he came from a poor working class family who could only give limited support, and had only been able to save a meagre amount of money himself, he was fortunate to win a scholarship which opened the door for him to go to Bristol. It was there that he once again met up with Brian Blessed, with whom he had struck up a friendship on their first meeting at the Mytholmroyd drama course when he was 11 or 12 years old.
Patrick left the drama school in 1959 and travelled the world for a while. Such were the circles he was moving in that Vivien Leigh, with whom he was appearing in "Lady of the Camellias" and "Twelfth Night", was at his 21st birthday party. In 1966 he joined the Royal Shakespeare Company where he remained for 16 years. During this time he also did some television work, appearing as Enobarbus in Cleopatra in 1974 and as Sejanus in the mini-series I Claudius in 1976. When the Barbican Theatre was opened in London it was Patrick who spoke the first words on stage on the opening night. He left the Royal Shakespeare Company in 1982 and moved more into films. His first film appearance had been in Hedda, supporting Glenda Jackson, back in 1975, and a whole string of films followed, including Excalibur in 1981, Dune in 1984, L. A. Story in 1991, Dad Savage in 1998, in which he played the title role, and many, many others.
It was 1987 when Patrick landed the role of Jean-Luc Picard in the television series "Star Trek, The Next Generation" without realising what a massive hit it was destined to become. During a break in filming for this series Patrick confided in one of the other stars that he had only been out of work for about 3 weeks during his entire acting career. This is unheard of in this uncertain profession, and it formed a parallel in my mind with his father's army paybook record, which had recorded each level of his army career with the word "exemplary" repeated again and again.
In 1984 Patrick returned to Mirfield and staged his one-man-show of "A Christmas Carol" to raise funds for the local Parish Church. He performed to an audience of around 200 people who each paid £2.00 for their seat. In 1991 this same show was adapted for a Broadway Show.
The Star Trek series was over by 1994 and Patrick returned to the stage and Shakespeare with an appearance in The Tempest. In 1996 he received the greatest accolade of having his own star on Hollywood's Walk of Fame.
Patrick has two children by his first wife, Sheila Falconer, from whom he was divorced in 1990 after a marriage lasting 24 years. His son, Daniel Freedom Stewart, is also an actor, and has inherited his second name from Patrick's grandfather, Freedom Barrowclough. His daughter, Sophie Alexandra Falconer Stewart is a boutique owner in London. On August 25th 2000 Patrick married Wendy Neuss, a film and television producer.
At the end of "The Best of British" documentary Patrick quoted something that Wendy Neuss had told him:
"You have to remember that when bad things happen to you, when something hurts you, when something doesn't go well; it's bullshit. But you also have to remember that when you are getting the awards and the applause and it all feels fantastic; that's bullshit too." That Patrick should take this moral to heart is no surprise because, despite his phenomenal success, he is still a true, down-to-earth Yorkshire lad. His marriage to Wendy ended in 2003.
Patrick met Sunny Ozel in 2008 and the couple started living together in 2012. They married at Lake Tahoe, Nevada on 7 September 2013.
On Wednesday 2nd June 2010 Patrick was knighted by the Queen at Buckingham Palace. The knighthood was in recognition of his services to drama. As I get older I find it harder to believe that I once sat in the same classroom and played in the same playground and streets as Sir Patrick Stewart.
---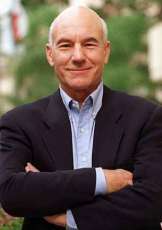 Patrick Stewart, Born 13th July 1940 at 17 Camm Lane, Mirfield, West Yorkshire, England
Knighted, Sir Patrick, by Queen Elizabeth II at Buckingham Palace on Wednesday 2nd June 2010
---