An Evening With Patrick Stewart
Patrick Stewart
Venue: Dewsbury Town Hall
Friday 4th April 2003
On the evening of Friday 4th April 2003 we all eagerly flocked to Dewsbury Town Hall clutching our tickets for an event in aid of the fund for the restoration of Gilder Hall Youth Club, Mirfield. Tonight we were expecting to be enthralled by the appearance on stage of no lesser personage than Patrick Stewart on a rare return to his home ground. We were not to be disappointed.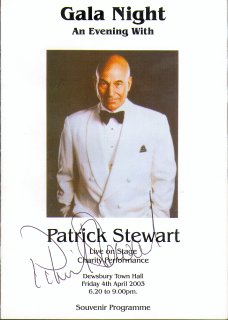 The evening started with an introduction by Alan Scott, a theatrical historian and former pupil of Mirfield Modern School who was there at the same time as Patrick. We were then entertained with a variety of music by the Dewsbury Music Centre Swing Band. This is a group of young musicians with just a few slightly older members lead by Nick Dolling and I was struck by their enthusiasm and undoubted talent. In this age of youngsters hanging around street corners, causing nuisance and damage and complaining that they have nowhere to go, I was moved to see what can be accomplished by those who can be bothered to try. It also highlighted the need for the facilities that will be provided at Gilder Hall Youth Club. Midway through this medley of music we were treated to a song from Melonie Jaye, an international singing artist.
The next treat in store for us was provided by the New Gilder Hall Drama Group and was an entertaining musical sketch ably performed even though, for some of the group, this was their first performance in front of an audience. I wouldn't hesitate to attend future plays or shows presented by this enthusiastic group.
After this, Patrick took the stage to a rendition of the theme from Star Trek, The Next Generation. He began by telling us that he didn't have a script for the show, just a few jotted notes as he wanted the evening to be an informal affair. He started with reminiscences of our first school, Lee Green Infants'. He remembered how in our first year we used to have an afternoon nap under the care of our teacher who he thought might have been called Miss Lockwood. It was actually Miss Ledgard and she lived at the back of the first block of houses at the Dusty Miller end of Flash Lane. The teacher for the older infants was Miss Wishart who lived at the top of Sunnybank Road. The junior girls in the separate school were under the care of Annie Garside who we used to call Fanny Garside, but never to her face as she seemed quite fierce. Miss Lockwood was actually the first headmistress at Mirfield Modern School at a much later time.
He then recalled a little of our junior school, Crowlees Church of England Boys' School. Our first Headmaster was Albert Haigh who had taken the position not long before we started there ourselves in 1947. Cecil Dormand, who was later to have a profound effect on Patrick's life, taught the older boys before the Modern School opened and he took up a position there.
Patrick then mentioned the eleven-plus exam for entry to the Grammar School and this struck a chord with my own experience of the exam. He recounted how he set off for school on the morning of the exam but for some reason, when he reached the top of Parker Lane, he turned left instead of going right which would have taken him to the school. He kept walking until he reached a vantage point on the Golf Links above Hagg Wood where he spent the day looking down on the school where he should have been sitting the exam with the rest of us.
For my own part I had been fed tales about how the Grammar School teachers were cruel monsters and how the older boys inflicted unspeakable horrors upon the younger boys. They were all untrue but I was at an impressionable age and was frankly scared at the prospect of going there. I didn't miss the exam as Patrick had done and I think that I was doing quite well as I was always near the top of the class in my schoolwork. I hadn't realised this at the time but still have my school reports even after all this time.
When preparing us for the exam, Mr. Haigh had stressed that two third of the marks were earned for general knowledge and here I was sailing through the general knowledge paper. Thoughts of passing for the dreaded Grammar School brought me out in a cold sweat. What was I to do? My answer was to turn back to the beginning of the exam paper and cross out the answers that I thought were correct and substitute them for answers I was sure were wrong. The result of this was to ensure that I failed the exam which came as a surprise to Mr. Haigh as noted on my last report from Crowlees School. This is how I came to spend my first year of secondary school at Mirfield Modern.
This story has previously gone untold because, when I was younger, I didn't want to invite the comments that I was just making excuses because I hadn't passed the exam. Now in my 70s at the time of writing this, I just couldn't care less. At the Modern School I found that I was consistently top of the class so after that first year I was put forward with a few others to resit the exam. This time I was under pressure not to disappoint my parents and more importantly had been promised a new bicycle as well so there were no more tricks and I found myself moving to the Grammar School at the beginning of the next term. But now back to the show.
Patrick continued with other memories of the dances we used to attend at Dewsbury Town Hall and how we used to try to avoid direct contact with the more extreme Teddy Boys of the late 50s if we didn't want to end up in a fight. At one point he moved to one part of the stage which represented the territory of these Teddy Boys because he, along with many more of us, had never dared to stand there as a youth for fear of dire consequences.
The show also included monologues from some of his favourite performances such as Oberon's speech from A Midsummer Night's Dream and his own personal rendition of the Agincourt speech from King Henry V. In another sketch he took on all the parts of the entire Cratchett family and Scrooge from A Christmas Carol much to the delight of the audience as he moved about the stage taking on the persona of one character after another. On a more sombre note there was a solemn reading of J. B. Priestley's final Postscript monologue as originally bradcast by the BBC in 1940. The evening ended with his opening monologue from Star Trek: The Next Generation followed by Puck's valediction from A Midsumer Night's Dream. All in all this was a wonderful evening that I'm glad I didn't miss.
After the performance a select group, including children from the Gilder Hall, met Patrick in an upstairs room. Among these was Josie, the daughter of my niece, and she was able to get Patrick to autograph her programme (pictured above) and she gave Patrick 2 of the photos of Crowlees Boy's school that I had done for her. He pointed himself out to her and she showed him which were myself and my brother to which he replied, " Ah yes, the Ellis Boys". When Josie said that I had married Barbara Smith he replied, "She's my cousin, so we must be related". It's nice to be remembered after all these years. If other events are planned then I must make a serious effort to meet him.
---
Josie G meets Patrick Stewart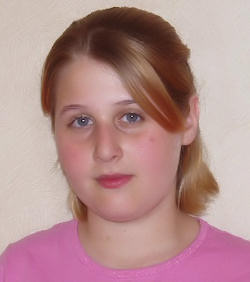 Josie G
Going to Gilder Hall for me was lucky, I had heard about it from school and my mum went there as a child, to the original building down Greenside, and had told me it was very good and about the history of it and how it was burnt out by vandals. I heard Patrick Stewart was coming back to Mirfield to help raise money for the club and was very excited. We all looked forward to his performance at Dewsbury Town Hall and I saw my two great-uncles there when we arrived.
Because I attended Gilder Hall Youth Club I got a back-stage pass and went to meet Patrick Stewart himself after the performance. My uncle Eric (the one who has this website about Mirfield) had given me two photographs that were from his school days. He and one of his brothers (uncle Brian) had gone to the same school as Patrick Stewart, namely Crowlees Boys' School. It was a small school and was easy to find Mr. Stewart on the photograph. There were only about 15 boys in this school.
I stood next to Mr. Stewart in the room waiting to speak to him but he was talking to the Mayor of Mirfield. Finally he caught a glimpse of the photos I had in my hand and said "Oh, I remember these! May I have a look?" He looked and pointed out some people. Then pointed at my two great-uncles "I could never remember these peoples' names," he said.
"They're my great-uncles Eric & Brian Ellis," I replied. "The Ellis Boys!" he said surprisingly and I nodded. I gave him the photographs and said, "Here, my uncle wants you to keep them." He took them and thanked me and asked me to thank my great-uncle Eric.
Then I remembered something that my uncle Eric had said. "Do you have a cousin called Barbara?" I asked. He looked surprised. "Yes, I do," he said. "Who had polio as a child?" I asked more excitedly. "Yes, but how do you know?" he queried. "She's my great-aunt," I said with a big cheesy grin on my face. I pointed at my uncle Eric, as a boy on the photograph, "She's married to him."
I asked for his autograph and he signed my programme. It was a wonderful evening I shall always remember. I went home with happy thoughts and started writing this article, for my Uncle Eric's website.

Josie G
---