Gunner Bessie Booth
Story of a Mother and War Veteran by Carol (Leadbeater) Borg.
Carol says:
Mum was one of the first women to work on the huge anti-aircraft guns. My son is amazed to think that she was actually using what could be considered one of the first computers. Her job was to take readings of the approaching enemy aircraft from which was predicted when the guns should be fired.
Article printed in the Mirfield Reporter, January 30, 1943.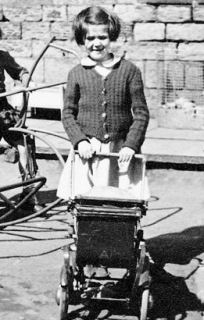 Bessie's daughter Carol, 1950s
Gunner Bessie Booth, who is serving in the ATS in a mixed heavy AA battery in Southern England, has been in action in the recent raids on this country. She is the 22-year-old daughter of Mr and Mrs Henry Booth, of Kitson Hill Road, Mirfield and was amongst the first ATS girls to fire against the enemy in 1941.
In a letter describing the most recent event, she writes: "The alarm went about 8 o'clock, and we were round the instruments from then until nearly midnight. In that time we fired so many rounds that I didn't know where I was; my head was ringing. Then we went to bed, but were called out again later for over an hour. I've never heard so much noise for a long time. All batteries around, both light and heavy, were banging away, so you can tell what it was like."
She also speaks of going in for gas mask tests, but did not know the result. Apart from being in action, she has had a number of pleasant experiences. She was invited to the Merchant Navy Club in London from which the 'Shipmates Ashore' programme is broadcast every Saturday afternoon. While she was there, she obtained the autographs of a number of famous radio stars, including Will Fyffe, Dorothy Summers, Doris Hare, David Burnaby and Robert Huby. She was also present at last year's Admiralty social held in London.
Follow up letter from Henry Booth's grand-daughter, Carol Leadbeater March 30, 2003.
My aunt and uncle, Brenda and Harry Booth of Scotland (formerly of St Paul's Rd, Mirfield), sent me a copy of the Jan 31, 2003 edition of the Mirfield Reporter. It featured a section called 'Looking Back'. One of the archives, dated January 30, 1943, is about a 22 year old, girl's War experiences. That girl, Bessie Booth, is Harry's sister and my Mum.
I thought you might like to know that Bessie is now 82 years old and living in Cobourg, Ontario, Canada.
During the war, Bessie met her future husband, Bob Leadbeater of London. Bob and Bessie married in July 1945 at the Zion Baptist Church in Mirfield, which, I believe, is no longer there. They lived on Back Knowl Road until 1956, when they immigrated to Canada with their three children, Margaret, Carol and Ian.
Bessie had an aunt living in Toronto, so they settled in the Toronto area. In 1982, Bob took early retirement, due to a heart condition and they moved from Toronto to Cobourg. Cobourg is a town about the size of Mirfield on the north shore of Lake Ontario, 60 miles east of Toronto.
Bessie has been widowed since 1987 and continues to live in Cobourg. She tries to keep active with lawn bowling in the summer and alley bowling in the winter. Bessie has 4 grandchildren and 1 great-grandson.
At her church, each year on Remembrance Day, Bessie is still recognized for her war service by being mentioned on the list of World War II veterans.
She was pleasantly surprised about the article appearing once again in the Mirfield Reporter.
End Note

On July 18, 2003 Bessie passed away unexpectedly and is buried at Union Cemetery in Cobourg, Ontario, Canada.