Mirfield United Football Club
By Gerald Pollard
Mirfield United were, prior to the first world war, a semi professional team playing in the Yorkshire Combination League, pitted against the likes of York City, Scarborough and Halifax Town. Bradford (Park Avenue) and Bradford City played their reserve teams in the league.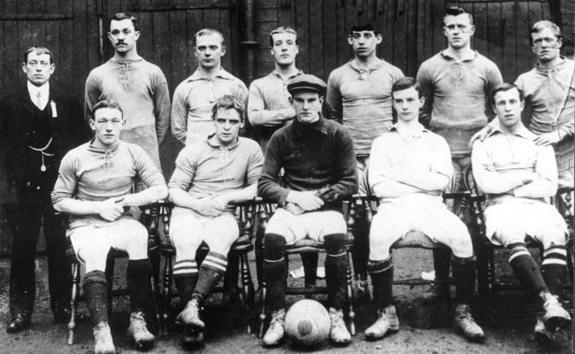 The headquarters were at The Black Bull and games took place on a pitch at the bottom of Station Road, just beyond the railway bridge and prior to Hopton New Road being constructed.
The president and a player in the early days was Richard N. Wheatley, of the mill owning family, who presented the Wheatley Cup to the Heavy Woollen F.A. in 1898 upon its foundation. It is played for to this day, Mirfield lost in the first final in 1899 but won the trophy in 1902 and again in 1903.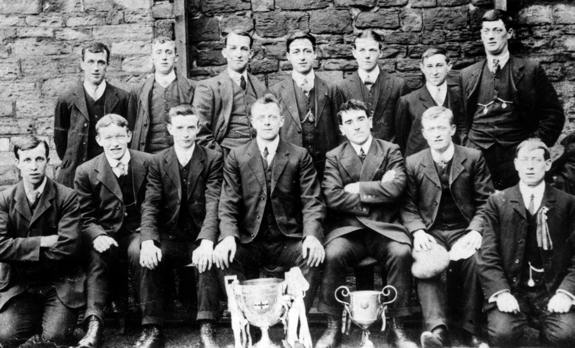 The pinnacle of the clubs success, and it seems they were successful, appears to be in the 1910/11 season when they won the West Riding Junior Cup, retaining the trophy in 1911/12. The photos presented are, I believe, of these two. The one with players in their kit, possibly the 1912 team. The big chap at the far right of the back row on this bottom photo was the goalkeeper Fred Haikings.
The 1911 final was played at Savile Town when they ran out 5-1 winners against Allerton Bywater (scorers Stainsby 4 and Whaites) but only after an epic Semi Final and four replays against Morley whom they finally conquered 2-0 at Valley Parade (no penalty shoot outs in those days).
The team playing the final was:
Goalkeeper: Haikings;
Fullbacks: Firth, Trenham;
Halfbacks: Harker, Moon, Cotterill;
Forwards: Whaites, McGill, Stainsby, Thomas and Doggart.
The Haikings and Cotterill families still live in Mirfield and I believe both players were transferred to Mirfield from Scarborough and Nottingham Forest respectively. Others such as Trenham and Doggart had been full time Football League players.
The 1912 final was also at Savile Town. This time v Halifax Town. Winning 2-0 only Trenham and Doggart survived from the previous year.
The line up was:
Goalkeeper: Felstead;
Fullbacks: Bell, Trenham;
Halfbacks: Stevenson, Moxon Hooton;
Forwards: Doggart, Stacey, Carter, Hancox and Drake.
Many clubs were disbanded at the outbreak of war and this may have been United's fate. I know that football at this level was played after the war at a ground behind the Savile Arms (now Whitehall Avenue) but whether this was United or Mirfield West End I can't be certain.
If anyone can put names to any of the faces in the photos please email the webmaster.