Leaving Sudetenland as refugees from Hitler in WWII
Part 1 – The Journey Starts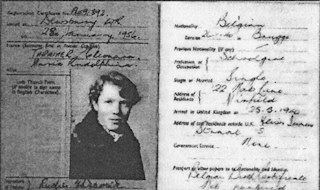 This is me at age 16, the age of registration for refugees.
I have lived in Mirfield for a great deal of my life but I was born in Brugge, Belgium in 1940 when my parents Rudolf and Anna Thramer were fleeing from the Nazi regime in Europe. My family is from Sudetenland in a north-eastern region of the area shown in yellow on the map below and marked with a cross. They came from the same area as Schindler, whose activities were highlighted in the film 'Schindler's List'. World events overtook them and they took the decision to leave for somewhere safer.
Background to Sudetenland
The Sudetenland is a historical region comprising areas of the Czechoslovakian provinces of Bohemia and Moravia, in the vicinity of the Sudeten Mountains. Although the majority of inhabitants in the area were German speaking, in 1919 at the conclusion of WWI, the treaty of St Germain incorporated the area into the Czechoslovakian Republic. In subsequent years control over the territory became a point of bitter contention between Germany and Czechoslovakia.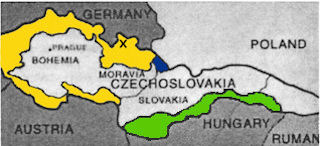 SUDETENLAND: Czech Territory ceded to
Germany at Munich, September 30, 1938

Czech Territory given toHungary by Germany
and Italy at Vienna, October 2, 1938

Czech Territory annexed by Poland
November 1, 1938
Matters worsened in the 1930's when, as a result of the world-wide economic depression, the heavily industrialized area suffered massive unemployment. The laid off workers were susceptible to the anti-Semitic, anti-Czechoslovakian pro-German rhetoric of Konrad Henlen and his cohorts, who founded the Sudeten German (Nazi) Party. Coupled with the discriminatory actions of local Czechoslovakian officials, publicity of the ensuing unrest caused the leaders of the western democracies to fear the possibility of war.
On 11 March 1938 Hitler invaded Austria and it was clear he wanted to do the same in the Sudetenland. On 7 September 1938 the German Sudeten Party demanded union with Germany and there were riots and German newsreels showed evidence of Czech atrocities against the Sudeten Germans. Hitler threatened to support the Sudeten Germans with military force and then the British Prime Minister, Neville Chamberlain intervened and met Hitler at Berchtesgarden on 15 September. Hitler promised him that this was the last problem to be solved. Chamberlain decided that Hitler was a man 'who can be relied upon' and he persuaded the Czechs to hand over the Sudetenland. Hitler then made more demands and at first Chamberlain refused, but then he decided that Czechoslovakia was not one of the great issues which justified war but just a quarrel in a far away country between people of whom we knew nothing. Britain and France met Hitler again and made a pact with him at Munich on 29 September and they gave the Sudetenland to Germany. On 30 September Chamberlain returned to England with his famous piece of paper. "I believe it is peace in our time" he told the cheering crowds. Czechoslovakia was not even invited to the talks. The Czechs were free to fight if they wished but they had no support. They chose not to fight. On 1 October 1938, Hitler marched unopposed into the Sudetenland. He said that it was the start of a 1000 year German Reich (empire).
My father decides to flee from the Nazi regime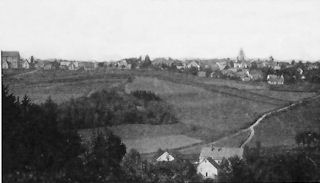 My father, Rudolf Stefan Thramer was born in Untergasse 154, in the village of Horni Mesto Sudetenland (now known as the Czech Republic see right, also known as Bergstadt in German), his father's name was Josef, and his mother's name was Karolina. Father was the youngest of five living children. Horni Mesto is surrounded by woods and there is a waterfall. I know that he missed these a lot while he was here in England. He went to volkschule, which is just like our ordinary schools, between 1914 and 1922. When he was older he was a silk weaver until September 1938. We also know that he was a member of the Deutsche Socialdemokratischs Arbeiter Partei from February 1, 1924 to September 1938. That was one of the reasons why he came away from Sudetenland as the Nazis were rounding them all up to put them into camps, so he decided to do a bunk. He must have been courting mother at the time because she says he called for her one night and that's when they joined the refugees.
Deportation Sozialdemokratischer Parteimitglieder in Graslitz
(Nazi Propaganda Postkarte)
I have a small book that was written by the Socialdemokratischs party in London with pictures in it showing the Nazis rounding the people up (shown right). The book was written by the party in London but it is in German. If my father had left it a little longer he might have been in this group. They then left to go into a hostel at Kremsier in Czechoslovakia from October 1938 to February 1939. They left the hostel to go through Poland to the port of Gdansk where they got on a ship for Belgium. The ship was called the Kastelhome, and it belonged to the Swedish American line that sailed between Gothenburg and New York.
In Belgium they stayed in a hostel in Kerbergen from March to September 1939 and then they moved to a hostel in Heist from October 1939 to May 1940. Whilst at Heist they got married in a small town called Tremeloo on 16th May 1939. They married with eight other couples because they all wanted to go to Canada, but in the end they could not go because father didn't pass his medical, because of his heart they said. I was born in January 1940 (and was named Eleanora Maria Rudolphina Thramer) in St Joannis in Brugges. It was a hospital run by nuns and I weighed in at 151b 4oz. One of my Godparents was a diamond cutter by trade.
In May 1940 Hitler invaded Holland, Belgium and France, so my parents set off with me to walk down to the coast with other refugees to get away from the German Army. That was a hard time; you might have seen films of the refugees walking down roads and being shot at by the aeroplanes. Mother says they used to have to jump into ditches, and they had nothing to eat. Father ate mouldy bread, and because mother had a baby she was given a little food consisting of sugar and water. If I hadn't been so big I might not have survived. They walked as far as Dunkirk, and there they were lucky enough to get on the very last ship to England on 25th May 1940. Mother said that a sailor held me until she got on the ship and she only just managed to grab hold of me when he passed me back. It took three days to cross the channel because the ship had to zigzag to avoid the mines.
In part 2 of this journal I will tell you what happened when we arrived in Southampton and about the documentation we were issued with 'Permitting us to land in the UK on condition that we had not to engage in any kind of employment without the consent of the Ministry of Labour and leave the UK not later than such date as may be specified by the Secretary of State'. It was stamped 'Alien Registration Office' issued by Bow Street Metropolitan Police.
Part 2 – Life in England up to 1965
So my parents arrived in Southampton on 25th May 1940 with two suitcases and myself, and no knowledge of the language. Father had a medical to join the English Czech army but he failed it on a grade 4, which I think was a heart problem. A well-documented and brave piece of British history took place the next day on 26th May up to 4th June when an armada of ships from all over the country went to Dunkirk to evacuate thousands of British and French troops off the beaches. We were very lucky to have made it to England when so many did not.

On the same day that we arrived we were issued with these slips of paper stamped with 'Security Control Office'. It stated that Eleanor Maria Thramer, Czech, was a foreign refugee with the word 'Examined' crossed out and 'Not examined' left in. One can imagine that, with limited personnel and the need to process the refugees and bring the troops back from Dunkirk, no one had time for long examinations.
We were despatched quickly from Southampton to Kew in London where we lived at 8 Burlington Avenue, which mother thought was a very nice house. Mother said that there was an 'ack-ack' gun in the back garden and they had to go into the air raid shelter when bombing began. You can still see bullet holes in the railway bridge over the Thames where the Luftwaffe tried to bomb it. Also in the next street there was an internment camp for Italian prisoners of war. The National Archives are now built on that land.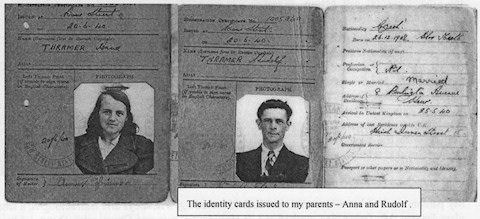 We were issued with alien identity cards at Bow Street, and whenever we moved house, father had to present himself at the police station to get our identity cards updated. I can only imagine how terrible this time must have been for my parents; in the short time of a few months they had left their family, their home and friends, got married and had a baby, then raced across Europe to get on the last ship to England. Imagine having no say in where you went or probably what job you would do and to have to travel in a country where you did not speak the language, it must have been a trial for them.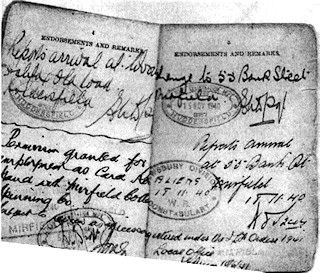 My father finally got a proper identity book in which all changes of address and employment had to be recorded and stamped by the authorities. The whole process took a few months and we were eventually sent to Huddersfield to a place called 'Woodside', Old Halifax Road. The image on the right shows my father's card with each change of circumstance. The first entry reports our arrival at Halifax Old Road, Huddersfield. The second 'Permission is granted for employment with Mirfield Cotton Spinning Co.' The third is a change of address to 55 Bank Street and the fourth is the report of our arrival at Bank Street on 11/11/40, stamped by the Dewsbury Constabulary 'Aliens 18 11 1940'. So in the 10 months since I was born in January 1940, we had travelled via Belgium and France to Southampton and then to Huddersfield and Mirfield where we were to live and work.
When we first came to Yorkshire we went to a hostel in Huddersfield and stayed there for a little while. Then we came to Mirfield where we were readily accepted and soon integrated ourselves into English life. We lived in a flat over the fish shop at the top of Bank Street and that's where my sister Elizabeth (named after the Queen Mum) was born in 1941. My brother Frank Joseph was born after the war in 1946.
We were helped by the Czech Refugee Trust Fund and our names can be found on their list of almost 20,000 Czech refugees at the National Archives. The names include those of the children that Nicholas Winton* managed to save with the kindertransport just before war was declared. The British Committee for Refugees from Czechoslovakia (BCRC), was formed in October 1938, and the resulting Czech Refugee Trust Fund (CRTF), formed in July 1939, were the main organisations dealing with the thousands of Czechoslovaks who came to Britain as a result of events in their homeland before, during and after World War Two.
My parents worked in various mills in Mirfield including Wheatleys and Barracloughs, and a small glass factory. My father also worked at L.B Hollidays (Dyes and Chemicals). Our neighbours kept an eye on us whilst our parents were out at work. I started school at St. Peter's at the Knowl, then Battyeford C of E mixed, then going on to Mirfield Grammar School. After 'O' levels I went to work as a laboratory assistant at the I.C.I. Huddersfield for 9 years.
In 1945 our relations were expelled from Czechoslovakia, along with 3 million others, to Germany. My father decided to move back to Germany in 1965 to be with relatives and I went with them, where after having to go through three hostels we ended up in the town of Rheinfelden, situated at the southern end of the Black Forest on the River Rhine overlooking Switzerland. By this time my sister was now married to an Englishman so she stayed in Mirfield, as did my brother. I worked in Germany for 36 years but after my parents died, as I had no relatives there, I came back to England in 2001.
Since coming back to Mirfield, family history has become my hobby where I research ancestors in German speaking countries for other people. Ironically to find my own family history I had to have a researcher in the Czech Republic, as the records are not available online there.
Rudie Thramer, Mirfield
Email: ethramer@talktalk.net
Rudie is a valued helper and friend at Mirfield Library on the 1st and 3rd Wednesday of every month where she is quite willing to help anyone with their family research and particularly with German research.
* Sir Nicholas Winton MBE, was on the news on 3 September 2009 on the 60th anniversary of the outbreak of WW2. He organised the rescue of 669 Jewish children from German-occupied Czechoslovakia on the eve of World War II in an operation later known as the Czech Kindertransport. Winton found homes for them (many of whose parents perished in Auschwitz) and arranged for their safe passage to Britain. Little was known of this until around 1988 when his wife found a scrapbook in the attic.
Useful links for more information:
www.nicholaswinton.com
www.en.wikipedia.org/wiki/sudetenland
http://en.wikipedia.org/wiki/Wki/germans_in_czechoslovakia_(1918-1938)
Previously published as a two part article in the Huddersfield and District Family History Society Journal.