Adverts from the 1950s and 60s
Lost Industries
During my research of the Mirfield Coronation Souvenir (1953) and the Mirfield Grammar School Magazines (1954-1962) I came across several advertisements placed by local industries. Some of these are still with us today but a great number (especially the mills) have long since disappeared. I present some of them here to prompt the memories of older visitors and also to hightlight those that have successfully survived.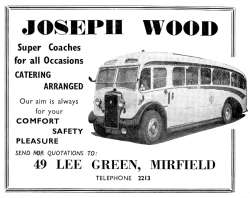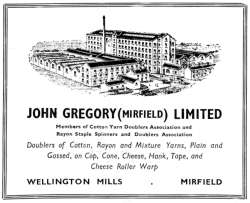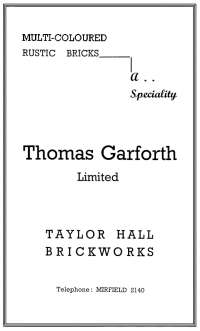 H. L. Cook (Grocers)
Station Road, Mirfield
E. P. Copley (Newsagent)
3 Fenton Street, Mirfield
Crossley's Soft Drinks
Orchard Works, Greenside Road
Dean & Co.
Newgate Garage, Mirfield
J. H. Eades & Son (Grocers)
206 Huddersfield Road, Mirfield
Edmundson's (Newsagent)
Eastthorpe, Mirfield
Lincoln Ewart (Butcher)
124 Huddersfield Road, Mirfield
Joseph Barraclough Ltd
Bankfield Mills, Mirfield
Jonas Beardsell (Draper)
Exchange Buildings, Mirfield
M. Beevers (Sweets)
126 Eastthorpe, Mirfield
Wardle Bellarby Ltd. (Wines & Spirits)
87 Huddersfield Road, Mirfield
Norman Brook (Chemist)
142 Eastthorpe, Mirfield
Norman Brown (Carriages)
Claremont Garage, St. Paul's Rd.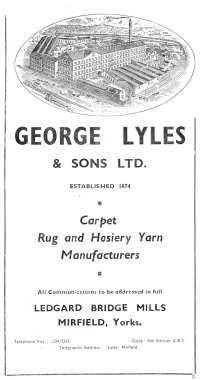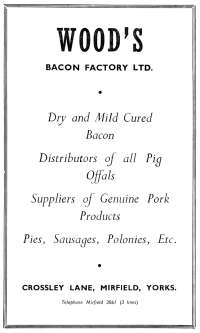 Dorothy Harrison (Hair Stylist)
114 Eastthorpe, Mirfield
T. Jackson (Footwear)
Eastthorpe, Mirfield
Kilner Bros Ltd.
Foldhead Mills, Mirfield
H. Mann (Outfitters)
138 Eastthorpe, Mirfield
Mann & Bedford (Painters)
9 Knowl Road, Mirfield
H. Marsden (Jeweller)
148a Huddersfield Road, Mirfield
Nora (Ladies' & Children's Outfitter)
182 Eastthorpe, Mirfield
Nortons (Butchers and Grocers)
102 & 104 Greenside Road.

Plantation Rug Co.
Granny Lane, Mirfield

Sally's Café
17 Station Road, Mirfield

Shepley's (Fish and Fruit)
Old Bank Road, Mirfield

Marjorie Simon (Woolshop)
Mirfield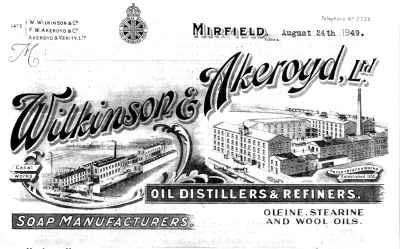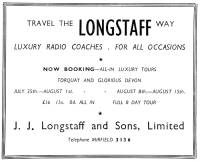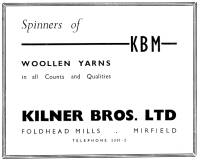 Squire A. Radcliffe & Sons
Gill Bridge Oil Works, Mirfield

Charles Ramsden (Butcher)
Eastthorpe, Mirfield

H. L. Ramsden (Decorator)
Eastthorpe, Mirfield

Squire A. Taylor (Fish and Fruit)
Eastthorpe and Calder Road

Fred Stead (Funeral Director)
Granny Lane, Mirfield

S. Stout (Grocers)
34 Water Royd Lane, Mirfield

The Coloured Cotton Spinning Company
Britannia Mill, Mirfield

James Walker & Sons Ltd.
Holme Bank Mills, Mirfield

Wilkinson & Akeroyd Ltd.
Perseverance and Canal Works

P. S. Willans (Grocers)
136 Huddersfield Road, Mirfield

Wood's Bacon Factory Ltd.
Crossley Lane, Mirfield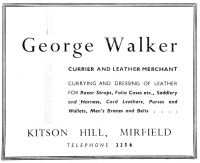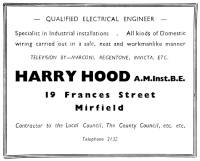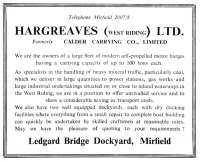 ---