Bus Operators & The Canal
Lost Industries
Joseph Wood's service bus is shown here parked up at Long Causway, Dewsbury. This company served Mirfield for many years, all through my early life and indeed right up to 1983 when the business was sold to Abbeyways who set up a separate subsidiary, Gobig Limited (Joseph Wood & Son), and continued trading under the Woods name until about 1990 when Abbeyways put Gobig Ltd into voluntary liquidation, putting the Lee Green premises up for sale.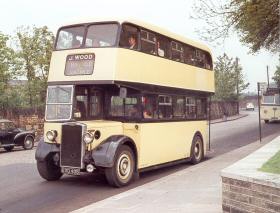 Ron Lyles, who were previously based in Batley, then bought the premises and garage at Lee Green to use as their base but moved back to larger premises in Batley some years later as the business outgrew the Lee Green premises. Ron Lyles then too went into liquidation in September 2008.
The garage at Lee Green was demolished in 2004 to make way for new flats to be built. Although this company has now passed into the annals of Mirfield history, this particular bus was still owned and preserved by Colin Wood until 2008 when it was sold to a respected bus preservationist based in Taunton, Somerset.
Another long gone coach operator was Lionel Padget who's office was on Oldbank Road and who later built Water Royd Garage which itself has since been demolished and replaced by 'luxury' appartments.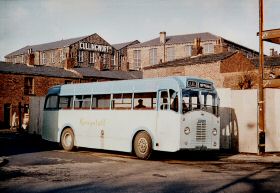 Let me make it clear right from the start that J.J.Longstaff's company is far from a lost industry. It's just that while we are talking buses, J.J.Longstaff has a special place in both the past and present of Mirfield. This is a family business and the quality of service is without compare. Many passengers will time their journey just to make sure that it's a Longstaff bus that carries them. The driver will greet you with a friendly smile and will share a joke with the regulars. It's not unusual to see the bus stopped in between bus stops while the driver helps an elderly passenger across the road. At the end of 2007 the touring side of the business closed down but the service buses remain.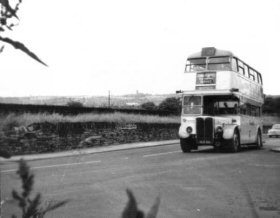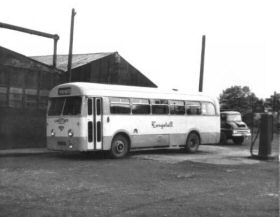 On the left is Longstaff's double-decker service bus taking the incline at the bottom of Shill Bank Lane while another of their service buses is pictured on the right outside the garage at Stoney Lane, Northorpe.
Black and white photos are by courtesy of David Jessop.
Barge Building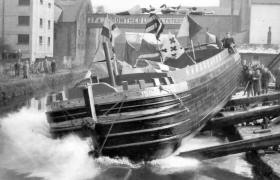 This is the motor barge Isobel being launched in 1955. This was the last barge to be built at Mirfield Boat Yard, situated on the canal between Station Road and Newgate. The boatyard is still operating today but is mainly kept going by private and leisure boats. The barges were launched sideways into the canal down a slipway. They were held back by chocks at front and back (stem and stern) which were hammered away at the crucial moment so that the barge would slide down into the water with a great splash. Today's boats are much smaller and are lifted into the water by a crane.
A Little History of the Canal
The Aire and Calder Navigation Act was passed in 1698, which allowed Wakefield, Leeds and Hull to be linked by a system of navigable rivers and canals and this waterway was opened in 1700.
The Calder and Hebble Navigation Act, which provided for extending the navigation of the River Calder to Sowerby Bridge was passed in 1755. Over a distance of 21 miles this waterway had to rise by 180 feet and 25 locks were needed to achieve this.
Work on the Mirfield section started in 1766 but was interrupted by the February floods of 1768. The canal from Dewsbury had reached Shepley Bridge by 1769 and the link between Shepley Bridge and Newgate was opened on 12th October 1776.
There were three boatyards, which were at Shepley Bridge, Battyeford and Navigation Bridge. In Pobjoy's 'A History of Mirfield', published in 1969, he states that 'the days are numbered for the boatyard at Navigation Bridge', but I am happy to report that it is still operating today thanks to the upsurge in the number of private narrow boats and other pleasure craft.
According to an article by the Calder Navigation Society that I once read, the original Mirfield Cut was only about 200 yards long and merely provided a bypass for the weir at Newgate. The last remaining part of this original cut can be seen as a sidearm and dry dock at Mirfield Boatyard.
---
Mirfield Reporter - May 1, 1943
Launching a boat has a peculiar thrill all its own at any time and when the "Sowerby Bridge", a fine new motorbarge was christened and went riding into the water at the Ledgard Bridge Dockyard, Mirfield, on Wednesday afternoon this same atmosphere was apparent.
Although the occassion was almost a private one, in a sense, the launching proved of considerable interest and there were quite a large number of spectators both at the dockyard and on Ledgard Bridge further up the canal to witness the spectacle. (Webmaster's note: The dockyard could not be seen from Ledgard Bridge so I think the original author most likely got confused with Bull Bridge on Station Road or possibly even Newgate Bridge.)
The barge, all glistening in its new paint, had taken about 12 months to build, although work had been interrupted on it from time to time. It had, of course, been constructed by the Calder Carrying Co Ltd and is to be used to carry cargo between Hull and Sowerby Bridge for the company. About 12 men have been employed on its construction. The boat, like most modern canal barges, is motor-driven by a 21hp motor and has a single propeller. It has a 60 tons cargo capacity.
The "Sowerby Bridge" is the first barge to be launched in Mirfield since the outbreak of war. The Ledgard Bridge dockyard has been in existence over 100 years and from there have been lauched many boats in years past.
Among the spectators was Councilor C W Thornton, whose forebears have been associated with the barge building industry since 1830.
---