Mirfield Mills
Lost Industries
Textiles
All woven cloth needs fulling and cleansing and there is evidence of fulling mills along the River Calder from the end of the thirteenth century. Fulling was a vital process in the production of cloth, converting a relatively loosely-woven fabric into a close-knit one. In early times it was carried out in flag-bottomed, stone-lined trenches. First the cloth was treated with a mixture of pig manure, urine and water, and was then trampled on with bare feet, to interlock the warp and weft. Because of this the fullers were often called 'walkers' so this is probably the reason for the frequency of that name in the West Riding.
Later the pig manure was replaced by Fuller's Earth (Magnesium Aluminium Silicate) which is a naturally mined clay used for its absorbent properties. It was used by the "fullers" to "full" (remove) grease and fat (lanolin) from woven cloth. Stale urine was often used as it greatly helped this process. One of my late father's favourite expressions from many years ago was "Tha dun't noa if tha's on this earth or fuller's earth" but it's only since researching for this webpage that I've discovered what fuller's earth actually is.
After fulling, the cloth was stretched out to dry on tenter-frames. These tenter-frames consisted of upright wooden posts with a fixed upper rail and a lower rail whose position could be adjusted by pegs or wedges. Both rails were fitted with "tenter-hooks" (L-shaped nails) at 2 or 3 inch intervals. The hooks of the top rail pointed up while those on the lower rail pointed down and the wet cloth was hooked by its edges to both rails then the lower rail was adjusted to draw the cloth tight and of even width. This is the origin of the expression "to be on tenter-hooks". If you study old maps of Mirfield you will find several areas around Hopton marked as Tenter Fields.
In the early days spinning and weaving were done in cottages as was the teasing or cleansing of the wool, first for the distaff and later for the spindle. This latter work, called 'scribbling' or 'carding' became a separate industry, and was often associated with fulling mills. This process was at first carried out using thistle heads but these were later replaced by 'cards' (from carduus which is Latin for thistle). The cards were made from pieces of wood with a handle, on which was laid leather studded with wire sprigs. Later when the machinery came in, strips of leather studded with wire were fastened to rollers and this in turn gave rise to a new industry of wire drawing. Mirfield soon had its own wire drawing mill.
In the eighteenth century Ismay recorded that in Hopton alone there were 40 pairs of looms for weaving white broad cloth. The whole of Mirfield had 2000 inhabitants at that time of which 400 were engaged in carding, spinning and preparing wool for the looms and 200 made cloth, there being 100 pairs of looms.
Note: A pair of looms didn't mean two but was used as in a pair of scissors.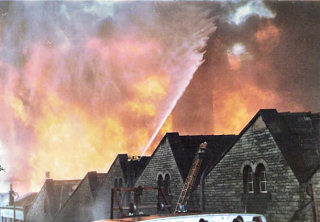 Fire at Foldhead Mill, 1974
There were many mills, both large and small, that grew up in Mirfield during the second half of the nineteenth century that dealt with various aspects of the textile industry. These included the large Britannia Cotton Yarn Mill in Station Road, Kilner Bros. of Fold Head Mills in Newgate and George Lyles of Ledgard Bridge Mills. Many light industries have taken space in these buildings as they have closed down, one by one. The picture on the right is of Kilner Bros. Foldhead Mills at Newgate as it was ravaged by fire on the 9th August 1974. The mill had ceased trading by this time and the building was being used for industrial units.
Among the few remaining mills are, Joseph Barraclough of Bankfield Mills, James Walker of Holme Bank Mills and Interface Fabrics of Hopton Mills (formerly Henry Wheatley and then Camborne Fabrics). Of these the oldest is Hopton Mills which was founded by Henry Wheatley in 1790. The power for the mill was first provided by water but in 1802 it was converted to steam, being one of the first in the district to do so. Coal was mined by the firm's own miners in the surrounding hills and woods and these 'day-holes' kept the mill running for about 80 years. This was to prove invaluable during the General Strike of 1926 when many other firms had to close down.
The photo below show workers at Barraclough's Bankfield Mill in 1957. The long photo was taken at a presentation on the occasion of the 21st Birthday of Edward Barraclough , son of Joseph Barraclough. The whole factory was also taken to London for the day. This was the time when the Hungarian uprising against Russian occupation of their country had been ruthlessly crushed forcing many Hungarians to flee to Britain and some of them are among the faces on this photo.
Names that we know in this photo (use in conjunction with the zoom facility on the photo)
Standing: 1-Charles Barraclough, 2-not known, 3-Joan Ellis or Betty Tattersall, 4-Hilda Peacock, 5-Elsie Ledgard, 6-Lillian ?, 7-Peggy Muddiman, 8-Lillian Hemingway, 9-Phyllis Mellor, 10-Malcolm Hargreaves, 11-Mr Elkes, 12-Joe ?, 13-not known, 14-Agnes Grundy, 15-not known, 16-Derek Broadhead, 17-Mrs Broadhead, 18-not known, 19-not known, 20-not known, 21-Wazyl, 22-not known, 23-Michael ?, 24-Fred ?, 25-August ?, 26-Malcolm Macullen, 27_Derek Le Gassick, 28-Pauline Hirst, 29-Alex Alexis, 30-George Stead, 31-Edward Barraclough, 32-Alma Taylor, 33-Frank Booth, 34-Ivor Aspden, 35-Ida Render, 36-Clifford Sands, 37-Harold Armitage, 38-Tom Preston, 39-Ronnie Archer, 40-Roy ?, 41-Jeff Stead, 42-Betty Cartwright, 43-not known, 44-Herbert Ross, 45-not known, 46-not known, 47-Jackie Midwood, 48-Herman Hutchinson, 49-Herbert Clegg, 50-Ernest Walker, 51-Stuart Lyons, 52-Ernest Johnson, 53-Harry Hinchcliffe, 54-Vernon Goy, 55-Imra Kiss, 56-Frank Harding, 57-not known, 58-Harry Newsome, 59-not known, 60-not known, 61-Joseph Barraclough.
Sitting: 62-Doris Ellis, 63-Rachel Harvey, 64-Jessie Peel, 65-Marion Stones, 66-Mrs Day, 67-Susan Hargreaves, 68-Anna Thramer, 69-Esme McWhir, 70-Anna Renshaw, 71-Nellie Brannan, 72-Louie France, 73-Ena Ellis, 74-Brenda Stead, 75-Beatty Woodcock, 76-Dorothy Stones, 77-Margaret Hallas, 78-Joyce Stead, 79-Pat Gillgallon, 80-Albert Gillgallon, 81-Ernest Mann, 82-Audrey Ellis, 83-Mavis Clegg, 84-Marlene Jackson, 85-Shirley Stead, 86-Harry Midwood, 87-Mrs Robinson, 88-Elsie Skelton, 89-Edith Brearley.

Move the mouse over the picture to zoom
The photo below shows a few girls from Barraclough's mill on a night out with friends at a St. Patrick's Ball, Dewsbury Townhall around 1958.
Standing: Beatty Woodcock, Ann Stead, Audrey Ellis ? Pat Gillgallon
Front sitting: Brenda Spenceley, Pauline Hirst and Kathleen Trotter.
Kathleen Trotter was a well known and popular conductor on Longstaff's Buses and was the last bus conductor in Mirfield.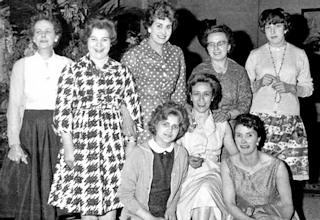 Barraclough Girls & friends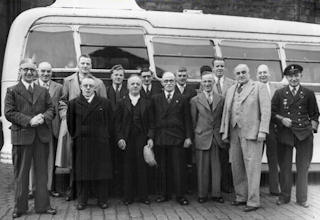 Wilkinson & Akeroyd 1949
Other industries included Oil Distillers and Refiners, and a Soap Manufacturer. These were catered for by Wilkinson and Akeroyd who had premises at Canal Works, Lowland Road and also at Perseverance Works, Battyeford. The picture, above right, shows staff about to embark on a works outing around 1949.
Metcalfe's Mill 1953
Metcalf's Mill Workers enjoy a coronation party in 1953
We think that this photo is of a Coronation Party for Queen Elizabeth II in 1953. Union Jacks can just be seen draped over the makeshift table. There is also a collection of crowns and coronettes in the centre of the group. As far as we know Metcalfe's Mill was situated to the right of the Wilson's Arms on Huddersfield Road.
John Gregory's Wellington Mill
One of the nice things about running this website is the feedback I sometimes get from people who find me when searching for Mirfield on the Internet. One such person is Mary Perry who found some papers relating to Mirfield, and Wellington Mill in particular, among the belongings of her late parents. She has been able to give me information about this mill that is not documented in any of my reference books. This relates to the war years between 1942 to 1946.
Mary's father, Dennis Lovelock, was born in Addlestone, Surrey and lived there for many years during which time he married and saw the birth of his first daughter, Sheila, in May 1942. As part of the war effort, he was sent to Mirfield, probably in June 1942, when Sheila was about 5 weeks old to work at Wellington Mill when the mill was taken over by the Ministry of Aircraft Production. A company called Jicwood, later Airscrew Jicwood, went into production there making doors for Lancaster bombers, among other things. Dennis was a "Firewatcher" by night and one of the workers by day. It would seem that the Ministry of Aircraft Production transported all the necessary machinery for the production of these aircraft parts from Surrey to Yorkshire. The completed parts were then transported to premises adjacent to Leeds Bradford Airport for assembly. A work colleague of mine had an auntie who worked on the assembly plant there, so this corroborates the story as the workers were ferried in by bus from various places in the locality.
Dennis' family were billeted with a local couple, Jeffrey and Hetty Fairbairn (Jeffrey was treasurer of the local Allotment Society for 27 years) at 28 Bracken Hill until April 1944 when Mary was born and they needed more spacious accommodation which he found in Dewsbury. In spite of the war, the workers seem to have had a good time in Mirfield, the Black Bull being a popular watering hole.
The following is a light hearted piece written after the war when the Jicwood workers returned to Addlestone. It was written by one of the workers and the "down in the jungle" reference is from the Tommy Handley Radio Show, "It's that Man Again" or ITMA as it was better known. Older readers will remember this well. The reference to one "Gregori" must surely be John Gregory. The down in the jungle quote I remember best is:
Down in the jungle,
Living in a tent,
Better than a prefab,
No Rent!



Thoughts On The Lighter Side Of Life At Wellington Mills - 1942-46
And in the beginning was it a cotton mill operated by one Gregori, whose chief commander was one John of the tribe of Ellis. And along came the hosts of the Min. of A.P. saying to Gregori, "Ye have had it, chum" and he was banished to the hills of Battyeford.
And among the heathen tribes of Yorkshire did come the soft-spoken Southerners, with their caravans bearing strange machines, and at their head was one of the clan Buchanan, murmuring, "verily, verily, will we produce the doors for the flying machines".
And there was much coming and going, hurrying and scurrying, pulling down and putting up, and the chief of the galley slaves was one White, whom some called Clerk of Works, while others were more truthful.
And it came to pass that many doors for the flying machines were made, though how this came about, only the wise men can tell, for many were the butchers, bakers, candlestick-makers, weavers, winders, "poverty-knockers", "shuttle-typists", bookmakers' assistants, and rogues and vagabonds engaged thereon.
And among these were many strange characters; to wit, one Joe Martin, who made his mark in more ways than one; likewise Irvin White.
And also was there one Alec Dunn, whose watchword was;..."Chassos," and the "Progress Pilgrims" had much fun and games in teaching foremen how to count.
And down in the jungle, deep in the heart of "A. Shed" was a tribe whose chief "medicine man" was one A.J. Firth, and to the beat of the tom-toms did they chant:
"Down in the Assembly Shop,
Working at top speed,
Do we earn our bonus, boys?
NO NEED !!!"
And there were those called Fire Watchers, who became very proficient in the arts of Solo Whist, Rummey, Pontoon, Banker, Alma, Ludo, Snakes and Ladders and Put and Take.
And about this time were expeditions made to Ye Black Bull and much was the consumption of beer, ale, porter, stout, whisky, rum, gin, sherry, pigs-ear, wallop, firewater, and aspirin tablets. And on one of these occasions did Mr. Buchanan develop a close attachment to Jelly and Trifle.
And on the occasion of one Annual Dance, Party, Supper, Binge, or "Do", did Mr. Dilnot show great aptitude for crawling on his nose, while the multitude did marvel at Mr. J. Nicholls' capacity for strong licquor.
But all this was not to be, for along came the descendants of Ye Gregori, saying to the hosts of the Min. of A.P. "Ye also have had it, chums".
And as it was in the beginning, will it be ye cotton mill again, and John of the Tribe of Ellis will once more be restored to his rightful place among the mighty.
Happy days at Mirfield 1942-46
Best wishes - J. Walton
Flour Milling
The grinding of corn to make flour is one of the oldest industries known to man. The earliest mention of such a mill in Mirfield's records is of one situated near the river Calder opposite Coppin Hall Lane at Battyeford. Along with a neighbouring fulling and scribbling mill it was known as West Mills. Other and ever larger mills followed on the same site as flour milling was a thriving industry in Mirfield up until the fateful day of 15th April 1909. On that day a ferocious fire swept through the largest mill of them all and destroyed the industry forever.
Stott's Mill was situated on the river Calder at Battyeford, a little way upstream of the Ha'penny Bridge where the weir provided a suitable depth of water for barges. The site has recently been levelled to form a new carpark for John Cotton (Jute) Ltd and the last remaining parts of the old building were demolished in the process. There are, however, still traces of the moorings on the riverbank where the barges were loaded and unloaded.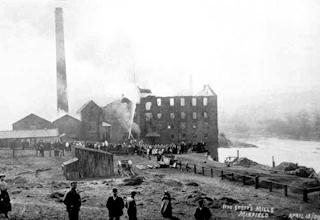 Fire rages at Stott's Mill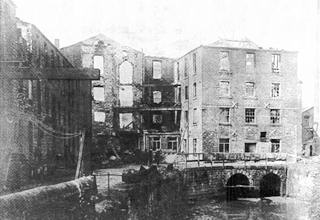 The aftermath of the fire
My interest in the mill was raised in 1993 when I saw an invoice for flour supplied by Stott's Mill displayed in the Dusty Miller public house on Dunbottle Lane. I researched old maps to find where the mill had been situated, and then took myself down to Battyeford behind the Cottage Motel (now demolished but it stood in the corner of Battyeford playing fields at the John Cotton side) and scoured the area near the river. There I found the stone moorings mentioned above and an overgrown ramshackle building with a red bricked top built on a stone lower section. The stone section retained the arched entrances that were characteristic of the old mill buildings and so appeared to be part of the original building.
---