M.G.S. Magazine - December 1960
MGS Magazine 1960
Articles written by pupils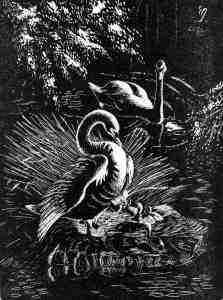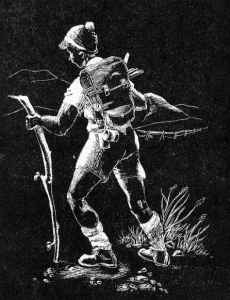 Pictures drawn by Elizabeth James
---
RICHARD THORPE
Richard Thorpe has this in common with Shakespeare that, although much is supposed, little is actually known about his life. For the purpose of this short article I shall confine myself to the main points and try to avoid getting into trouble!
He was the son of Samuel Thorpe of Hopton Hall and Judeth (Judith), daughter of Thomas Roodes (Rhodes) of Flockton, and was baptised at Mirfield Parish Church in January 1638, though his actual birth date is not known. He died on 27 January, 1713, at the age of seventy-five, and was buried at Mirfield. His gravestone can be seen within the Old Church.
In 1560 his great-grandfather, also Richard Thorpe, bought the manor of Hopton for £120 7s. 6d. The family wealth continued to grow, and when Samuel Thorpe died in 1644 his son, Richard, our founder, came into very considerable property indeed. No doubt he was able to add to it, so that he in turn was able to leave Hopton Hall and property in Hopton, Mirfield, Birstall and Bradford to' one son, while another was able to buy Lees Hall, Thornhill (now standing under the shadow of the Power Station) for a sum reported to be £1,800.
He attended Sidney (now Sidney Sussex) College, Cambridge, and took his M.A. in 1661, being well versed in Latin, Greek and Hebrew-a necessary qualification for those proposing to enter the ministry, Anglican or Dissenting.
It is probable that he married twice. His first wife's name is not known; they had five children baptised at the Parish Church, the first in 1664. At least three of them died in infancy or early childhood. In 1681 he married Mary Coulson and they had three children, Richard, Daniel and Mary, who survived him. There are, however, a Bridget, a Mary and a Martha whom I should very much like to trace; though these may be descended from Richard Thorpe, his son. The repetition of Christian names in this family causes very great confusion.
Richard Thorpe is frequently referred to as "one of the ejected ministers of Hopton Hall." This description sounds attractive but its accuracy, or interpretation, is doubtful. It will be recalled that the years following the restoration of the Monarchy in 1660 were troubled times, not least for those who found themselves unable to conform to the Anglican worship. The Act of Uniformity of 1662 restored the Prayer Book and ejected from their livings some two thousand clergy who could not assert their "unfeigned consent and assent" to everything the book contained. The Conventicle Act of 1664 made prison and transportation the lot of those caught in acts of dissenting worship. But it is extremely unlikely that Richard Thorpe held a living in 1662 when he was only twenty-four years of age and there is evidence that, far from dissociating himself from the Parish Church, he still held, in 1666, "toow roumes" (box pews) behind the North door.
Undoubtedly, however, during these years his religious convictions were growing firmer. He began to hold classes both in Dewsbury and at Hopton Hall, and in 1669 he was "silenced" by the Archbishop of York-that is, stopped from teaching religious truths according to the Presbyterian doctrine.
After the Declaration of Indulgence in 1672 he successfully applied for his house at Hopton to be registered as a Presbyterian place of worship and himself to be a teacher of that form of doctrine. In 1678 he became an ordained Presbyterian minister.
Various references to him indicate that he travelled widely through the North of England, was well-known and highly thought of in Dissenting circles. Through the reign of James II he probably continued teaching and preaching at Hopton Hall until, following that unhappy period, the Toleration Act of 1689 granted liberty of worship to Protestant Dissenters, and the houses of William Hepworth, in Mirfield, and Michael Sheard, in Hopton, were licensed as places of religious worship.
Richard Thorpe's original Deed of Gift of certain premises in the Township of Mirfield for the support of a School for the education of fifteen poor children of that Parish is still in the possession of the School. It is in good condition, though worn at the corners where it has been folded; because of this, certain phrases used below have been taken from a later document, of 1718. Richard Thorpe's signature is still clearly legible.
"This Indenture made the twenty fourth day of February in the twentieth yeare of the Reigne of our Sovraigne Lord Charles the Second anno dm 1667" conveys to four trustees "all those closes and parcells of Land and Meadowe lying and being nere Ledgerd Bridge. . . together with the dwelling house and Building thereon erected. . . and also a cottage. . . with one little Croft lying nere thereunto and one House there now used for a Schoole House!"
The whole area consisted of some six or seven acres of land, most or all of which had been purchased by Richard Thorpe in 1663 for the sum of £120.
The trustees were to pay "unto the said Richard Thorpe his Heires and Assignes the yearly rent of one shilling att the Feast of St. Michael the Archangel . . . upon this expresse Trust and confidence that the said house used for a Schoole House shall so continue and be constantly employed. . . for a Schoole House for ever."
The remaining rents and profits of the Trust were to be paid to the "Schoolemaster at the saide Schoole for teaching fifteen poore Children there of the Inhabitants of the parish of Mirfield till they can read English well and such of them as can read well. . . to be displaced and removed. . . and other poore Children of the said Parish to be placed in the said Schoole to be taught as aforesaid soe as alwayes the number of fifteen poore Children shall be constantly taught there. . . freely for ever."
" . . . The said Trustees. . . shall take care for placeing . . . poore Children in the said Schoole as are of the poorest sorte . . . and they shall from time to time place such a Schoolemaster at the said Schoole as the said Richard Thorpe and his Heires shall approve of."
"If the said Trustees. . . shall make default in the discharge and performance of the Trust herein expressed. . . then these present Indentures shall be voyde and then. . . it shall be. . . lawfull . . . for the said Richard Thorpe into the hereby granted premises to re-enter and the same to have again, repossess and enjoy as in his former Estate. Nevertheless to the intent to convey the same to other Feoffees and their Heires for the purposes aforesaid."
The contingencies somewhat gloomily insured against in the last paragraph did actually arise-in 1796-but that is another story!
A.H.B.
---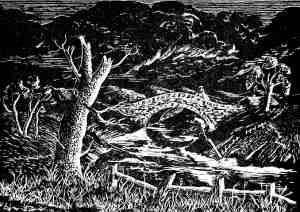 Drawn by Norma Ellis
---
THE LONG AND THE SHORT OF IT
One must admit that knees can present quite a problem. Some people are justly proud of their fine knees and they display this part of their anatomy to the full by shortening the shortest of shorts as far as decently possible. Now this is all very well, but it puts the person with weird and malproportioned knees at a strong disadvantage.
This very problem now confronts the Boy Scouts' Association in the form of whether they should continue to wear shorts, or break with tradition and wear longs. Everyone must have seen the typical "Brussels Sprout" in full regalia. You see some in long shorts, some in short longs, some in short shorts and some in what are best described as "flour bags."
It seems that knees are likely to be the deciding factor. They come in all different shapes and sizes, and many varied types such as bony, knobbly, hard, soft, angular, rounded, thin, fat, big, small, concave, non-existent, down-covered, bald, viciously bristly, dirty, clean, lily-white, nut-brown, scratched, curvaceous, cold, warm, protruding. . . Need I go any further?
The very excellent Companion Association to the Boy Scouts, namely the Girl Guides' Association is very much in favour of their retaining shorts (quite naturally). Their support is based upon the many interesting variations and indeed they are all very keen "knee-spotters." It is every Guide's ambition to spot the latest fashion of knees and I do believe that there is a "Knee-Spotter" badge. I have not found any similar award in the Scout movement, only a marked enthusiasm for "legspotting," but that seems to be a different matter!
All this, taken on the merit of being advantageous with the Guides, does not encourage people enough. They disagree with having to stand in cold, draughty places in shorts (what about the poor old Scottish Scouts?). They sit for hours debating the situation, the handsome knees on one side and the nondescript and non-existent knees on the other. An agreement never seems to be reached, and meanwhile the Guides remain girl friends incredulous; heads grow hotter and knees grow colder.
No doubt the problem will be settled shortly, but heaven forbid that we should see a compromise!
G. C. ALDERSON.
---
TWO FIRES
I
Suddenly from nowhere came a break of brilliance on the sullen moorside. Colour upon colour, orange, red, yellow, lit up the surrounding hillside as if a match had been struck in some dark, unknown cavern. No human cries were uttered, but those of the birds crescendoed into a mighty scream. The flames leaped higher; blanket upon blanket of thick smoke covered the moon, and all her brilliance seemed diminished by that of the fire. Sparks were flying like fireflies caught in some huge spider's web, struggling to get free and then failing, giving up, falling among the embers left in the fires path. The wind seemed to descend like the gust from a bellows, sending great balls of fire into a darkness unknown. Suddenly the fire seemed to spiral up toward the heavens, then dying and then trying again-without success.
From where I was standing I could hear the spitting of the small, scrubby bushes being engulfed by this mad sheet of fire, as a kitten would spit at a lion. Countrymen rushed grimly to the scene. The beating of jackets and brushes and branches was like a puppy's growl, continuous and unending.
Again came the cry of the moor birds, pleading pathetically for the fire to go away, away from their moor.
The fire was now ceasing, and all the moor seemed to go dark. Only the glowing, less frightening, charcoal and ashes were left, looking like a carpet of tiny red flowers dropping their crimson petals.
The moon was covered with a blanket of cloud, now, and all her companion stars faded into the distance, Then down came the rain, falling heavily, drenching every reclining tree, shrub and blade of grass. The spitting and sizzling of the dying embers brought tears to everyone's eyes.
ELISABETH BRADBURY (3 Alpha)
---
TWO FIRES
II
The fire was now at its height and we could hear, above the threatening roar of the flames, the clanging bells of yet more fire-engines coming to the rescue. Huge tongues of flame leapt into the silent sky, casting grotesque shadows on to the faces of the people below. Smelling the strong fumes of petrol, I felt a cold tremor creeping through me as a twisted iron girder crashed to the ground.
Firemen seemed to be everywhere, fighting the unrelenting hatred of this immensely destructive fire. The flames leapt forty feet into the air, their colour varying from angry red at ground level to orange at the top. The dense smoke almost made visibility invisible as the fire belched out gigantic grey columns of choking smoke. Whilst listening to the crackling and hissing of burning wood I wondered how anyone could be so heedless as to throw a cigarette end near a petrol can.
After an eventful hour the fire reached its climax and it soon became evident that the danger of its spreading was over. Slowly the flames diminished and the oppressive heat decreased.
The picture that will remain with me always is of the havoc which the blaze caused. The ground was littered with charred remains; only the stone walls were left, forming the empty shell of a. one-time garage,
RHIANNYDD JONES (3 Alpha)
---
A CLOSE SHAVE
Slowly the young man, handsome and brave,
Enters the bathroom for his first shave.
Slowly he fixes the mirror and light,
Adjusting to see that everything's right.
Slowly and gently with finesse and grace,
He scrapes the cold steel over his face.
Slowly he cuts off bristle and hair,
Making each stroke with infinite care.
Slowly he feels his face, tender and sore,
Feeling so proud as he walks to the door.
Quickly, however, before he gets old,
He'll learn that a beard best keeps out the cold.
COLONEL.
---
PARSLEY
In case there is any doubt, let me first explain exactly what parsley is, for those of us who are not botanists. Parsley is the little green weed often found growing on fish, usually the variety of fish served in the high class joints. Although it is often believed that this is some weird variety of seaweed, this is not the case, and it is an interesting fact (or is it?) that it is actually an Umbelliferous biennial herb, or, for those of us with sub-standard memories, it may be sufficient to remember that it is an "umbel" plant.
Another member of the Umbelliferae is a plant known as Cow Parsley. This species is indigenous to the British Isles, and is favoured by a certain class of ruminant herbivores who prefer to eat the same meals twice. The main difference between this and the common parsley is that this is eaten without fish, as the cows cannot swim fast enough to catch fish. One of the most useful features of Cow Parsley is that it is tougher than our parsley, and it can therefore stand up to a second chewing better than our parsley could, without acquiring the consistency of school cabbage. The best method of obtaining a constant supply of the weed is to plant some seeds, which very seldom grow, as parsley seeds are looked upon as a great delicacy by a number of marauding insects. These insects are the "Edwardian" types of the insect world, and it needs only a few parsley seeds to make them "fresh," when they will be seen to run backwards and make strange signs with their antennae.
To return to the method of growing parsley—don't! Go and buy some.
WILLIE.
---
CREEPERS AND CRAWLS
(With sincere apologies to any creeps who are unfortunate enough to alight on this article)
The populations of the insect world, although often considered marauding nuisances, are really a source of great interest, even if this interest is only in providing jobs for eccentric old gentlemen, who possess a never-ending supply of the creatures in ,their long (sometimes even hairy!) beards. The insects usually found in beards are of the type made famous (if not popularised) by a certain popular song which began "flea, fly, flo, flum."
However, it must not be supposed that all insects are of this low calibre, and one has not to look very far to discover several quite dignified representatives of this class. Among these are the so called "fat-flies," which are usually "fin," despite their nomenclature. Included in this group are the butter-flies, who have now succumbed to an advertising campaign, and now prefer the margarine with the ten per cent butter content.
Among the most modern insects are the "beatnik-flies," first discovered after the recording of a Hurricane which recently swept the country. These became the great rivals of the "blue-bottle flies," who, up to now were considered the "toughies" and who obtain their name from the colour of containers which supply a potent, nauseating liquor of which vast quantities are consumed by certain individuals.
Lastly, let us turn our attention to one of the immature stages of the insect class. Perhaps the most interesting is a species known as the "bespectacled book-worm" which inhabits the pages of certain large volumes. The big disadvantage of being a member of this species is that it is very allergic to grease, and if too much is applied, its movements become torpid, and in this state, it may easily be crushed between the pages of the large volume which was once its home.
R. W. HOLT.
---
MAP TO SHOW THE POSITION OF CARDIFF
[A recent examination answer]
---
OBITER DICTA
Mr. Creakle was Headmaster at Salem House. He was a very viscous man.
An element is an animal with a trunk.
The police were chasing Richard Hannay on the moors in Scotland. Hannay was in the lead.
"A bird in the hand is worth two in the bush" means that you should never be greedy but be impatient and wait.
Marco Polo was a man of the thirteenth century. He spent twenty years there.
King Henry's knights murdered Beckett thinking they were doing him a favour.
The Vikings were blunderers and they came to England to blunder.
---
CANADIAN POETRY YEAR BOOK - 1959
GIVE ME THE ARCTIC
The beauty of the arctic
With the feathered frost at night
The beauty of the arctic
With the glorious northern lights.
Oh from Cambridge Bay to Coppermine,
Aklavik to Tuktoyaktuk,
Give me the barren lands at night
A sled, some dogs, and some luck.
For I'm bound north through the barren lands
Though it's fifty below this night,
I'm bound north through the barren lands
'Neath the flickering heavenly light.
I'll tread the path of MacKenzie
And though it fall the darkest night,
Then I'll think of Dangerous Dan McGrew
To give the strength to fight.
And what reward do you think I'll get,
What wealth can a man receive?
Maybe I'll trap a fur or yet
Push a couple of bucks up my sleeve.
But you can have your dollars old or new
If that's what you want to achieve,
Give the spectral northern lights
And the open skies I love,
Give the freezing arctic nights
I'm at peace with heaven above.
RICHARD GORDON HEPWORTH.
---