M.G.S. Magazine - December 1960
MGS Magazine 1960
School Trips
ITALY
Italy-the land of sunshine, wine and romance, that was what awaited us when we stepped off the train at Lugano to board the coach waiting to take us to our hotel in Cadenabbia on Lake Como. We had a hair-raising journey round hair-pin bends and down steep hills and arrived at the Hotel Britannia Excelsior in time for lunch. We were initiated into the mysteries of spaghetti-eating at our first meal! We had many weird and wonderful concoctions during our stay there. Some of the dishes were very nice especially "Little Lemon."
We spent our first evening exploring Cadenabbia and the neighbouring village of Tremezzo which possessed a very nice juke-box. Italian night life is very different from British as we soon found out! There are no licensing laws and cafes stay open until 2 a.m. and after. The electricity system is not very efficient and we were liable to be suddenly plunged into darkness as happened on more than one occasion. Italian people are much more friendly than British—especially the male half of the population! The lido opposite the hotel was very popular and we spent most of our time swimming and sunbathing and drinking Coca-Cola. We drank more cokes at 12 o'clock than at any other time, though they had to be bought much earlier.
Riding through Italian traffic is an experience never to be forgotten as we discovered when we hired bicycles one morning to explore farther round the lake. Much to our surprise we arrived back just about in one piece, though I cannot say the same for the bicycles or a certain fruit cart that happened to get in the way! It was a curious feeling riding on the right.
St. Moritz was reputed to be very cold, but when we went there by coach it was quite warm. We went up the mountain by funicular railway and cable car and walked over snow in the warm sunshine, The Borromean Islands in Lake Maggiore which we visited by launch presented a contrast to Milan which was very modern and almost unbearably hot.
The journey back was long and tiring and a French train guard was no help when he pulled us all out of bed and confiscated the bedding at 2 o'clock in the morning! The channel crossing was fairly calm but very windy. We survived the customs and the train journey and arrived home tired but with happy memories of our Italian holiday, thanks to Mr. Saywell, without whom it would never have been possible.
K.H.
---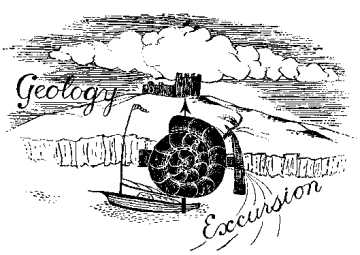 In the early hours of the morning of May 10th a party of Geologists, notorious rather than famous, set out from Mirfield Station on their journey to a remote part of the Yorkshire Dales. There were seven in our party of dauntless lads and we were under the very excellent leadership of Mr. Jessop, to whom we are all most grateful for organising the trip.
The first leg of the journey took us from Mirfield to Bradford, where we traversed the city from one station to the other and boarded a train bound for Clapham. Once aboard the train, we settled down either to catch up on lost sleep, meditate on things to come, or even play cards (one member being a sardonic cardsharper). Eventually we steamed out of the Station, and rolled merrily along the track Northward bound. We passed many features of interest and saw much evidence of Glaciation in the area around Long Preston. After what seemed like a never-ending ride, we came to an abrupt halt and disembarked at Clapham Station, the very picture of desolation.
Alighting at Clapham we had to walk the remaining few miles to Ingleton, our real destination. In the village of Ingleton we hunted supplies and tried to get acquainted with the geography of the area. We ambled slowly through the village and made towards Meal Bank Quarry, an old, disused limestone quarry. We observed the intriguing features of the quarry and also decided that the name of the place was quite appropriate, as at this point we decided to devour our victuals. During this lunch-time break one "bod" was seen fulfilling a promise which he had made earlier on. He was in fact doing a bit of "swotting" and consequently his name was held in disrepute by the rest of us.
After lunch we pressed on further up the "creek" stopping to admire the beauty of several waterfalls in the Glen. At the head of the Glen we made a visit to another old quarry where we found some first-class exposures of pre-Cambrian Ingleton Granite. We also came across three lusty workmen who were dismantling the old workings at a speed comparable with that at which a glacier travels. We continued on our way further up the now broad valley and paid a visit to Weathercote Cave. Here we saw a seventy-foot waterfall descending into the black depths of nether-Hell, as we thought. This latter spectacle had rather put the Bejabers into two of us, and I for one was pleased when we decided to make tracks in the direction of the village and the Youth Hostel, where we were to stay the night. After settling in we had a most enjoyable meal and we found that a large party of youngsters from Doncaster was also staying there.
The next day we had planned to spend on a more or less circular tour, returning to the Hostel at night. This we did and the Expedition Party moved off from the Hostel, having completed some rather rustic chores! We travelled up Swilla Glen and in this region we came to the decisive conclusion that the North Craven Fault, for which we were ardently searching, was right across the Glen. At the head of the Glen we took a look at another magnificent waterfall-Thornton Force. We proceeded from here on to the flanks of Gragareth and going via Turberry Road came to a pothole known as Yordas Cave, Here we rallied as many torches and flash lamps as possible, and proceeded to explore the interior of the earth. One or two members had been a little unnerved by the thought of entering the "black hole," and to add to their consternation, Mr. Jessop politely informed them, when we were right inside, mind you, that the Cave had been closed to the public owing to its being unsafe. This brought a diversity of comments (most of which were drowned by the sound of water, fortunately for the utterers) and the progress out of the exit was remarkably fast, compared with the speed with which we entered.
From the Cave we tramped up the slopes of Gragareth and then down the other side to look at more pot-holes. By this time I, unfortunately, had become more than a little footsore. I plodded wearily on while the rest went in search of the dank depths and at one point I was given up by the rest of the party as lost. Quickly they organised a search party for me, and splitting up all in different directions proceeded to hunt me down. They shouted all manner of conjectures into the wind (later assuring me that they were calling my name) and I, who thought they were playing at some cowboy game or other, proceeded to watch them disappear over hill and down dale. Eventually we were reunited, and whilst some stalwarts went in search of the long lost Permian beds, I was accompanied, now hobbling, back to the village. After a raging thirst had been amply satisfied we made our way to the Hotel and refreshed ourselves in preparation for a feast.
Thursday was our last day, and the itinerary consisted of scaling Ingleborough and visiting the Caves at Clapham. Unfortunately I was unable to participate in this last lap and I had to plod my way along the road back to Clapham Station. Even though the situation was rather acute the elements had no mercy, and it decided to throw it down in the traditional manner. I managed to reach the station and there spent some five or six hours eating, drinking, reading, shivering and quietly cursing the cold waiting room among other things.
At about five o'clock the rest of the party arrived, and we soon caught the train back to Bradford. When we had eventually got warm in the carriage we reflected on the journey, not with bitterness, but with a mild contempt for those who did not know the enjoyable companionship which we had shared and once again we all thanked most gratefully our energetic and keen organiser and teacher, Mr. Jessop, for another wonderful Geology Trip.
G. J. SMITH.
---
GREAT LANGDALE
It was, I suddenly realised, when Mr. Evans breathed the magic words above, fourteen years since I had last climbed Bowfell and in carefree abandon (memory blunted by War) almost plunged my unsuspecting wife down the precipitous Links into Three Tarns, over six hundred feet below. Bowfell, whose graceful outline (a perfect peak) had beckoned so frequently during my school holidays on the Cumbrian coast! Bowfell, that I had so lightly scampered over in the happy days of my youth! This was to be more than another Easter trip; it was to be a pilgrimage.
We stayed at Wall End, by the Blea Tarn road. Night falls quickly in Great Langdale and soon covered us with soft wings. Was it imagination or had our party responded to solemn adjurations to walk and behave like Christians? Certainly, during the week to follow, there were to be no shocks and explosions such as that which erupted so suddenly last year on Dolgelley bridge and reverberated in Cader Idris's flinty caves. It was a party of singular quietness and calm and, on the first night, we slept.
Saturday dawned, bright and warm. There could be no choice. Up the broad valley of Mickleden we went, casting speculative eyes on Pike o' Stickle rearing above us. Rossett Ghyll, unlovelier than ever, beckoned too; the main party climbed Stake Pass and then traversed to Angle Tarn. Lunch was eaten in warm sun on Esk Hause, in sight of snow patches on Great End's formidable north-eastern face. Esk Pike summit followed next-this was no party of shirkers to take the easy way round-and then came Bowfell at last. Here we stopped and, while the more mundane ate oranges or prodded blisters, others pondered the glories around and beneath them.
Three Tarns followed; then every crinkle on Crinkle Crags; a spot of fun on Bad Step; a solemn circumambulation of the Three Shire Stone; and we returned home in a golden evening by Wrynose Pass (somewhat sadly translated) and the rhododendron thickets of Blea Tarn. It had been a good day and the sun had shone bravely. Was it the heat that made me see a bus parked on the top of Wrynose? Reason vigorously protests; memory asserts that it was.
The rest of the week followed the same pattern. After a free day on Sunday, when Ambleside, Grasmere or Little Langdale variously called, we visited Dungeon Ghyll and climbed each Pike. There was some consternation here among those who had forgotten Pike o' Stickle on the way up, but they responded valiantly, and for Mr. Evans who must carefully lead Beauty-in-Distress into the ways of quietness and peace. High White Stones and Serjeant Man marked the way to Easedale and thence to the grosser joys of bacon and chips at Grasmere.
On Tuesday came Tarn Hows, a tamed but still lovely Tarn Hows. Gone are the days of adventure when a sign at the top of Glen Mary warned all and sundry to Beware of the Bull and one eye was drawn to the level glories of the lake while the other rolled in fearful anticipation. Now motorists in fine clothes saunter on mossy paths and the wagging pines waft away the scent of petrol. The main party strode out by way of Swirl How and Coniston Old Man; the idle meandered there.
Was there a man dismayed? On Wednesday the true walkers climbed Helvellyn and Fairfield; others explored Grasmere; tourists sailed round Derwentwater.
On the last day came Scafell Pike for all, summit of all England, to be followed (most nobly) by Great Gable. As for the writer, he climbed Bowfell again by the Band, photographed the youngest by the tin-strewn cairn of Scafell Pike, and then descended soberly and with great satisfaction by way of Great End into the welcoming arms of Mickleden and the Old Hotel for tea with rum butter.
It had been a wonderful week, with a purpose and an achievement. Our seasoned walkers knew what to expect and got it; we hope our beginners will want to come again. Mr. Evans's legs twinkle as merrily as ever up hill and down dale. May they long continue to do so.
A.H.B.
---
THE SOUTH OF FRANCE
First of all I must assure you that I am not a millionaire, have not come up on the pools and have not inherited a fortune. The whole idea of a trip to the French Riviera began as a dream which happily materialised, and so at 7 p.m. on Friday the 15th of July four stalwart travellers packed themselves, along with sleeping bags, stoves and a host of other items of equipment into the rather inadequate interior of a Morris 1000 pick-up in readiness for their invasion of the land of wine, sun, General De Gaulle and Brigitte Bardot.
Thus it came to be that we arrived in Dover at 2 a.m. on Saturday morning where we enjoyed a comfortable night among the fishing boats and pebbles on the beach. We left Dover at 4-30 p.m. on the Saturday afternoon and after a tranquil crossing landed at Calais ninety minutes later. Our holiday seemed really to have begun now and with replenished enthusiasm we covered about half of the hundred and fifty miles to Paris before retiring for the night. Two of the party slept in the vehicle whilst the other two slept in a small tent. It rained during the night and we found out by the wet way that our tent was not waterproof.
Though the subsequent two days consisted mostly of travelling we managed to find time for a quick look around Paris. The journey through France was for the most part uneventful except for its getting decidedly warmer on approaching the south coast. During our journey our one and only driver had compared favourably with both Stirling Moss and the maddest of French drivers. I was the most proficient French linguist of the four which is the same as saying that we were reduced to methods of sign language for communication, some of which did not go down too well with the French peasants.
Our first glimpse of the Mediterranean was obtained on reaching Marseilles. We then followed our previously planned route a few miles along the coast to Cassis, a small town set amongst the dull brown mountains which contrasted strongly with the deep blue of the sea. The journey had been long and tedious but we now realised how worthwhile it had been and immediately sampled the wonders of bathing in the Mediterranean under the blazing sun.
The scenery along the coast was magnificent and we travelled further and further eastwards, stopping occasionally until we came to the Nice-Cannes area. This is the rich man's playground and the poor man's paradise (in my case). We had brought much tinned food with us and could be seen every day eating our beans and bread outside the "Carlton" or "Hotel Splendide" whilst inside residents were devouring food of a rather more recherché nature. Finally we reached our ultimate goal, namely, Monte Carlo. This proved something of an anticlimax and was disappointing when compared with other less famous places. On leaving Monte Carlo we made our way back to Calais via the foothills of the Alps and Paris.
Looking back I think that such a holiday was well worthwhile and I must admit that the South of France compares very well with even Blackpool!
CHUCK.
---
WEMBLEY
Twelve noon on Friday, April 29th, brought the beginning of yet another coach excursion to Wembley, headed as on previous occasions by Mr. Salton and Mr. Jones.
After six hours of pleasant travelling, we stopped at Biggleswade, where tea awaited us, and then proceeded, non-stop, to London, "checking-in" at the Queensway Hotel at 9-45 p.m. On our arrival, we went for a brisk walk before returning to the hotel and bed.
The following morning, the sun was shining, which added to our enjoyment of a trip to the famous Tower of London, passing, en-route, all the well-known London sights. A very interesting morning was spent and we returned to the hotel for luncheon.
Lunch over, we set off by coach for Wembley Stadium. On reaching the unmistakable twin towers of Wembley , we arrived inside the vast stadium just in time to join in with the community singing, along with some 90,000 other football enthusiasts. The game itself turned out to be a thrill-packed one, in which England beat Scotland by two goals to one.
When the match had ended, we were taken to a restaurant for tea. Afterwards, we caught an unexpected glimpse of the Queen Mother, on her way to Buckingham Palace. At 7-30 p.m. we went to Westminster pier, from where we were taken, by launch, for a two-hour cruise along the Thames. Dry land was reached again at 9-30 p.m. and we returned to the hotel and a very welcome night's sleep.
On Sunday morning we had an early breakfast, and left London via St. Albans to visit Whipsnade Zoo, where we had lunch and a complete tour of the whole park. Although the rain was falling a little, everyone enjoyed the tour immensely. We left there at 3 o'clock, and then resumed our journey homewards, stopping at Grantham for tea at about 6-30 p.m. We arrived back in Mirfield again just after 10 o'clock on Sunday night.
Many thanks must go to Mr. Salton and Mr. Jones for an extremely well organised and interesting trip to Wembley.
J. BOOTH.
---